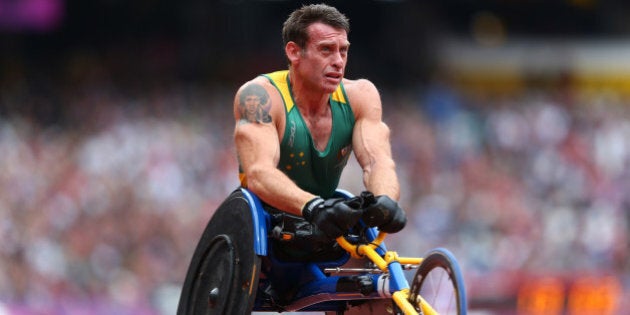 As one of Australia's longest serving Paralympians, Rich Nicholson is a man who enjoys a challenge.
Nicholson, 45, is gearing up for his sixth Paralympic campaign in Rio in 2016 and told The Huffington Post Australia he never let his disability deter him from being active -- in fact, it's what drives him.
"Ultimately, I like the challenge of measuring myself against my peers and competitors," he said.
Nicholson has been without the use of his legs since the age of four, and as a child he was into skateboarding and then gymnastics in his teenage years.
As an adult he found powerlifting and competed in the Paralympics in 1996 and 2000, winning a silver medal in Sydney.
But he said there was a dark side to the sport he could not ignore, as doping ran rife in the late 1990s and early 2000s.
"I felt I'd done my best by playing by the rules and I wasn't going to get a better result," Nicholson said.
"I didn't feel I could beat them and I wasn't going to join them."
Athletics proved to be his destiny -- specifically racing.
Nicholson competed in Athens and Beijing but said the massive crowds at London contributed to a career highlight.
"A large part of what London did really well was they marketed the Olympics and the Paralympics as one festival," he said.
Nicholson says he was thrilled when he arrived in London to see the faces of fellow athletes adorning buses and billboards raising the profile of the games and including them as part of the big picture.
That precedent has now been set and Rio is looking to do the same.
Nicholson said he was looking to Rio 2016 and juggling his training with a full-time job at the Australian Institute of Sport managing the new sports draft initiative.
"If I didn't feel I could positively contribute to the medal tally at this point, then I wouldn't continue at this level," Nicholson said.
"I feel I'm still competitive."
To get to Rio, the athletes first have to make their mark at the IPC World Championships in Doha next month.
According to Nicholson, the more medals and good performances, the more quota spots will be allocated for Rio; then it's a matter of the individual athletes performing well over the next 12 months to fill those spots.
Nicholson will compete in four events: the 400m, 800m, 1500m and the 4x400m relay and he said he didn't have a favourite.
"At the end, it's about challenging myself," he said.
Nicholson's goal is for the Australian team to finish in the top six teams at the World Championships and he said he had a strong sense of responsibility to create new opportunities for the younger athletes.
"I do feel there's a responsibility on athletes to make sure there's opportunities next year for the young kids coming through, so doing well in Doha is essential."
What is a certainty is that Nicholson will be right up there creating those opportunities through strong performances and hard work in Qatar.
And, while he does not like to talk of Rio 2016 as a given, it's hard to imagine he won't be there taking on this his next and perhaps biggest challenge at what would be his last Paralympics.