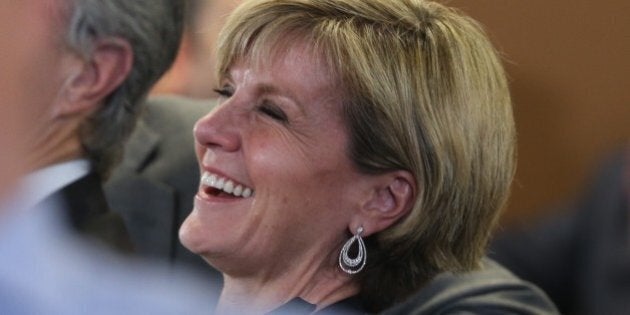 Without a doubt it's been a gruelling week for Deputy Prime Minister Julie Bishop.
So whether to blow-off steam or stage a charm e-ffensive, Bishop has delighted her twitter followers with a rare display of e-motion.

The late-night social media spree began when one of the Foreign Minister's 'followers' claimed he'd been "blocked" by her. "Blocking" is tantamount to a twitter brush-off.
"Legitimately sorry - certainly not intentional," she wrote, including an emoji tiger cub by way of an apology.
Within seconds Bishop was inundated with 'follow' requests from a curious twitter-verse. She began granting them with gusto. Every single one. The Huffington Post Australia counts more than fifty in total.


Such was the wonderment surrounding Ms Bishop's emoji-laden follow fest, that social media started to question whether the member for Curtin had been hacked.
Around 3am it was all over, and Bishop tweeted the internationally recognised emoji for sleep.

But it leaves us wondering... was the overnight activity good PR, or is Bishop a clear candidate for some R&R?