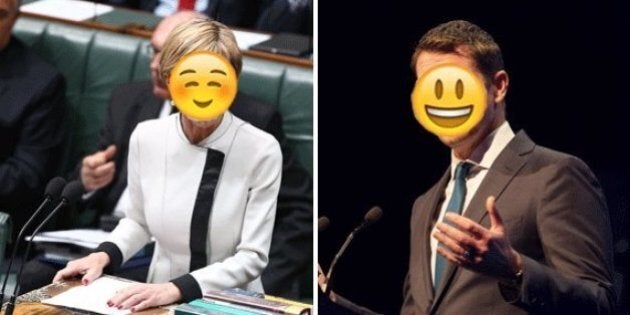 On Thursday night, a man live Tweeted the finale of The Bachelor. He was just one of many thousands people who sent countless Tweets about the show. So why was this man splashed across the Sydney Morning Herald, Buzzfeed, 9 News, News.com.au, Sky News, Pedestrian and The Huffington Post Australia?
Because the man was the NSW Premier, Mike Baird; and we love it when our politicians are actually good at social media.
If Baird is the king of #Auspol social media, then Foreign Minister and deputy Liberal leader Julie Bishop is the queen. Her emoji-laden rampages are already the stuff of legend -- her latest one also lit up our site -- while her sometimes dry diplomatic updates are spiced up with a smiley face or two.
In an age of iProducts, internet-equipped watches and near-total connectivity, everyone is on social media. We all know how it works. So why do we love this so much? Why are we so surprised and shocked when our politicians -- essentially professional communicators -- are good at communicating?
It's because so many of them are, simply, just not. In a word, it's authenticity.
Take a look at your local member's Facebook page. We're not in the business of naming and shaming, but likely their Twitter will be clogged with photos of them attending the opening of a stormwater drain or non-descript concrete highway; their Facebook will be littered with links to their press releases, and news articles based on their press releases.
Oftentimes, it's not even the politician writing the updates -- more likely, it's a staffer or eager university intern. Even pollies who sign off their personal Tweets with their initials (Kevin Rudd's "KRudd" and Barack Obama's "bo," we're looking at you) don't help much, besides reinforcing the fact that the vast majority of updates do not personally come from the politician we like and we want to follow.
We like it. Voters want to find a shred of humanity in their elected representatives. We want to connect on a personal level. Cookie-cutter Facebook posts and tame Tweets by staffers just highlight the gap between the voter and the politician, further putting our representatives out of touch with their electorates. We want to know what they're doing and how they do it and what they get up to along the way; in the case of Malcolm Turnbull, we know pretty much every step he takes all day long, with his obsessive chronicling of public transport travels. It's little surprise that some of the most popular politicians are some of the most active on social media.
The latest polls say Baird is the preferred Premier of 72 percent of NSW residents, and his party have a crushing 57-43 two-party-preferred lead. It's not totally due to Baird's policies or reforms, with his government presiding over hugely unpopular changes like stripping out the homelessness budget and domestic violence services -- it's likely due, in no small part, to Baird's personal popularity, and his relative human-ness. It's not because he's doing anything particularly remarkable in itself, it's because most others are lagging so far behind.
He's the Stephen Bradbury of Australian politics, skating through with ease as the others fall around him. All Baird has to do is stay upright, not fall over, not disgrace himself or make a gaffe (easier said than done, in this climate) and he wins.
The 12 Bachelor-related Tweets from Baird probably sparked more goodwill, online chatter and -- he hopes -- votes than days of kissing babies and shaking hands at shopping malls. We're excited that Julie Bishop gets silly with emojis; that Clive Palmer switches his phone to selfie mode and puts his face far too close to the camera to bid goodbye to Tony Abbott; that Glenn Lazarus, when looking to make a point over the cleaners at Parliament House striking, didn't raise a point in the Senate or put out a press release, but did this:
Social media bridges the gap; whether that be between friend and friends, celebrity and fan, or politician and constituent. We want people who speak directly and honestly to us. We want to know what they're doing, what they like and what they think -- and tagging a few Tweets with #TheBachelorAu doesn't hurt, either.