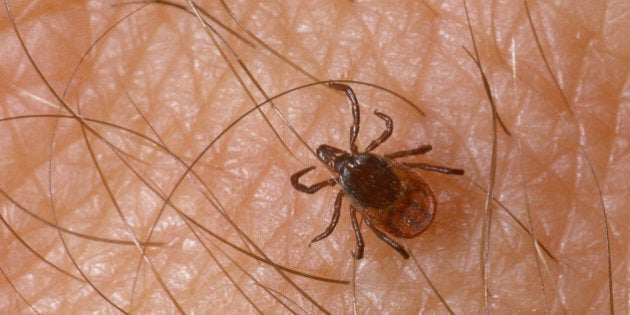 A mother describes watching her child's health deteriorate to 30 seizures a day. A woman tells of spending her superannuation trying to get diagnosed. A doctor says GPs are being punished for trying to treat their patients.
These are just some of the astounding anecdotes from the Lyme Disease Roundtable Hearing at Parliament House in Sydney on Friday morning.
Experts and people living with tick-borne diseases came together to jointly call for Lyme-like diseases to be identified and recognised in the Australian health system, however doctors cautioned against rushing treatments that hadn't been proved.
In the U.S. lyme disease is caused by a specific bacteria that lives on ticks, and infects people when bitten, causing a range of symptoms from severe fatigue to palsy, seizures and neurological problems like memory loss.
In Australia, people present with these same symptoms after tick bite, but the lyme-causing bacteria has not been found.
Instead, a different kind of bacteria is present -- most commonly called borrelia -- however the diseases caused are hard to characterise and Australia does not have a clinical definition or diagnosis for it.
In other words, the conditions do not exist in Australian medicine, forcing people to spend thousands to seek diagnosis and treatment in Germany, Malaysia and the U.S.
Department of Health representative and doctor Gary Lum, however, said tick-borne diseases were not straightforward.
"Long-term treatment is favoured by some practitioners and argued against by others," Lum said.
"Controversy remains around causation and treatment."
Royal Australian College of General Practitioners representative Nigel Stocks agreed more needed to be known about the disease and its treatment before guidelines could be established
"It is a very difficult area and it can only be solved with further research," Stocks said.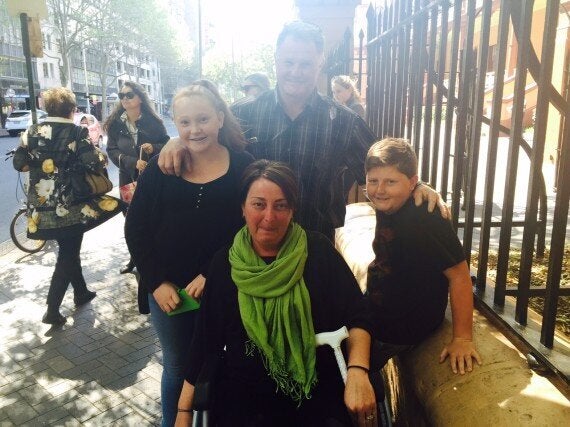 The Wheeler family including Ruby, dad Mick, mum Michelle and Max. Picture: HuffPost Australia
Dora Creek mum of four Michelle Wheeler told The Huffington Post Australia a tick-borne illness had taken away her life.
"I used to be supermum," Wheeler said.
"I was raising four kids and helping out with the business and then everything I knew was stripped away.
"My children and my husband are now my carers. I can't walk, I can't get up in the morning, my husband gives me IVs at home. We need recognition."
Gabrielle Stevens told the roundtable two of her daughters Shannon and Tara developed a tick-borne disease but the family was "faced with ignorance and ridicule" when trying to seek treatment.
She said Shannon last went to school in 2012, and at her worst, woke up every morning with a grand mal seizure while Tara had 30 seizures a day.
She said the family had lived in Europe and friends there could not believe Australia was not helping her daughters.
"How could Australian doctors let my little Shannon get so sick? I was hurt for my daughter's suffering and ashamed of my country," Stevens said.
"[Our European friends] are astounded by the medical sector's ignorance and unwillingness to change over here."
Company director Christopher Walker said he was initially diagnosed with "most unusual" meningitis in 2012 and it took about 15 years to get the correct diagnosis of a tick-bourne disease.
During that time, he was a blood donor and he fears the seldom-researched bacteria could be transmissible by blood.
"I was an active blood donor," Walker said. "I do suspect are people in Australia who are infected with borrelia who … got it courtesy of my blood donations."
Newcastle mum of two Alex Patson told the roundtable she and her children contracted lyme-like diseases.
She said the 'lyme' tag was hurting the cause by inviting controversy.
"We need to lose the lyme name… it's time that we have an Australian name for this cohort of symptoms so we finally can move forward."
Doctor Of The Last Resort
Dr Richard Schloeffel described himself as "the doctor of last resort" for people with chronic disease spurring from a tick bite.
"By the time I see them, they've already seen 20 or 30 doctors. One of my patients had spent $1 million trying to get diagnosed before he came to me."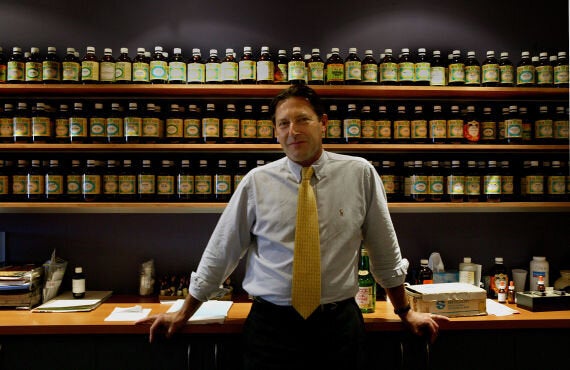 Dr Richard Schloeffel says people come to him desperate for treatment. Picture: Fairfax Media / Jennifer Soo
Schloeffel said some patients were treated for several months with a protocol of supplements, antibiotics and therapy.
Some cases, he recommended they go to Germany for the "highly controversial" hyperthermia treatment where people spend nine hours with their body heated to 41 degrees in a clinic, often while receiving a high dose of antibiotics.
"Over 1000 Australians have been -- patients are going there every week," Schloeffel said. "We're the biggest supplier of patients."
As for those who are treated in Australia, he said blood tests alone could cost up to $3000 and antibiotics were more than $400 a week with with supplements costing about $600 a month.
And that's if you could find a doctor to prescribe them.
"Most GPs are constantly fearful someone will dob them in for treating someone," Schloeffel said.
Lyme Disease Association of Australia representative Sharon Whiteman said many doctors refused to treat patients.
"We have a shrinking number of doctors willing to receive referrals from us," Whiteman said. "Right now in Australia, we have patients being treated at home.
"They're neglected and rejected from Australian hospitals."