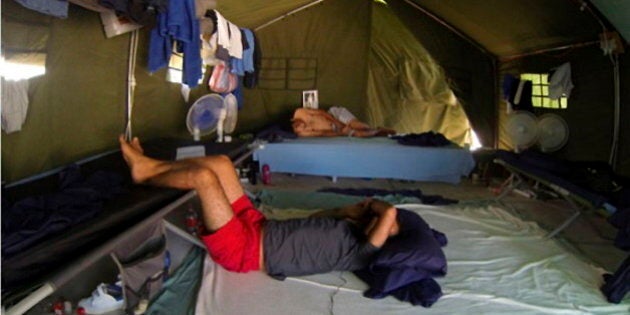 An Iranian asylum seeker detained on Nauru has made a complaint about his treatment to the UN human rights watchdog, amid allegations he was arrested and held in a urine-soaked cell when he tried to visit his critically ill sister.
The 20-year-old said he told staff from the UNHCR he was detained for more than 30 hours in the cell at the Australian-funded offshore processing centre when people, including guards, allegedly urinated into the cell.
"I just asked to see my sister because she tried to (commit) suicide... we are family, because I'm her brother," he told ABC radio on Friday.
The government of Nauru on Friday hit out at the public broadcaster on twitter, and accused it of "outrageous meddling" in its domestic affairs over its reporting on recent deportations.
The Iranian man's sister, who was allegedly raped while on day release on the island in May, had apparently used insecticide to try and kill herself for the second time.
In mid-August it was reported she had been transferred to Brisbane in a serious condition.
Her brother, who is still on Nauru with his mother, claimed he was put in a cell without furniture while people outside, including guards, urinated through the bars.
"I slept on the urine. Because of some reason that I really don't know why, they urinating (sic) into my cell and I used my t-shirt for cleaning and make it dry," he said.
He had been waiting with his mother for her medication when he heard his sister scream.
"I just run (sic), because I heard the screaming sound, because I understood that something happened to my sister," he said.
A fellow detainee, named Fariborz, told the ABC the guards acted as though they "had arrested a criminal from Daesh" when they grabbed his hands.
"His shoulder blades were being bent, because they had pulled his arms behind him," he said.
Fariborz said Nauruan police arrived soon afterwards, and ignored his pleas to visit his sister.
Refugee Action Coalition Spokesman Ian Rintoul told The Huffington Post Australia he did not expect much to come of the man's complaint.
"It raises the ongoing issue of the treatment the get from the police," he told The Huffington Post Australia.
"The UNHCR are not going to do anything. We take complaints all the time. While (the UNHCR) is critical of Nauru, it operates under the auspices of the government."
On Friday the ABC reported a Chinese national has been deported from his long-time home in Nauru without being charged with any offence.
A recent senate inquiry into Nauru has heard numerous allegations of abuse.
In August, Wilson Security, which operates the centre, dismissed as absurd allegations by a former staff member asylum seekers had been waterboarded.
A guard was also suspended on full pay after he was alleged to have confessed to making up an allegation an asylum seeker assaulted him.
Immigration Minister Peter Dutton has described the inquiry as a "witch hunt"
Last month, New Zealand suspended aids to Nauru's justice sector amid concerns of a law and order breakdown following the arrest of five opposition MPs on the tiny Pacific Island.
In mid-August, Nauruan government announced it had increased security at the Island's Regional Processing Centre, with two police officers now stationed there and "able to respond seven days a week."
Acting Commissioner of Nauru Police Superintendent Kalinda Blake said the officers are the first point of contact for any incident requiring police investigation.
Also on Thursday, the government issued a statement defending its legal record after the New Zealand Government suspended aid to the Justice sector following the arrest of five opposition MPs.
* If you need help in a crisis, call Lifeline on 131114 or the Suicide Call Back Service on 1300659467. Further information and general support are available from beyond blue on 1300224636.