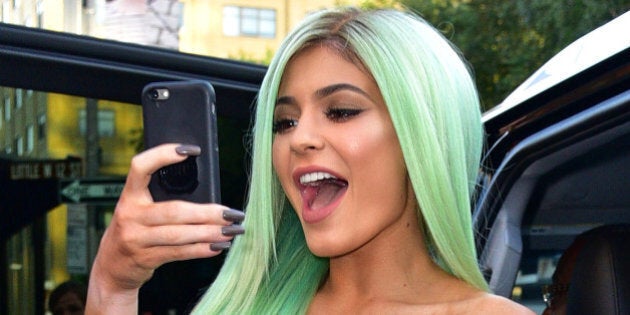 "[It] took months of not dying my hair and wearing wigs to get my hair back to health so I can do this," claimed Kylie Jenner after revealing her newly blonde hair on Instagram. The image has nearly 2 million likes and a string of comments from adoring fans all wanting to copy the look. Now, she's gone green.
Unlike sister Kim, who seemingly went from black to white overnight (and then back again within weeks) Kylie's honesty about switching up her colour is surprisingly refreshing. We asked owner of RAW Salon in Sydney and stylist, Anthony Nader, what it really takes to switch up your strands just like the celebrities.
You've seen the change on the red carpet and front row at fashion week, as celebs keep themselves newsworthy with dramatically different hair colours and styles. But don't be fooled, they're not as spontaneous as they appear. "What the everyday woman doesn't realise is just how calculated these hair changes are. They might look like they've made the decision on a whim, but the look is often cleverly contrived for maximum impact," explains Nader. Often wigs and weaves are used too, so they get maximum impact with minimal damage to their natural hair.
You don't see them on their Instagram feed or paparazzi shots but lurking in the distance is a team of stylists (and makeup artists) at the ready to ensure celebrities are always picture perfect. "Just like their outfits, the celebrity needs to have hair changes with every show because there's no way they could be seen with the same look twice," says Nader.
Extreme changes in your hair colour - like going from black to blonde - causes serious damage. Ideally colourists would take weeks or months to gradually change your hue, but in a celebrity's case they don't always have the gift of time. In this case it would be a lock down situation -- where the colourist and client would spend an entire day -- even up to 10 hours -- taking the hair to the required colour, with lots of hydrating treatments in between and possibly a haircut too. "There's no way we'd be able to do that, or recommend doing that, for the everyday woman. But celebrities don't lead normal lives - they can have frequent professional treatments," says Nader.
It's all about being ahead of the pack
In the fame hungry world of celebrity it's important to your image that you set the trends rather than follow them. "The celebrity is forecasting the next season's hair when they sit front row at fashion week. Hairstylists can then start filtering these looks down to their client and photo shoots immediately. That's the beauty of the whole Instagram/blogging world, there is no excuse whatsoever about being behind," says Nader.
Want to mix up your look? Take cue from these celeb styles.