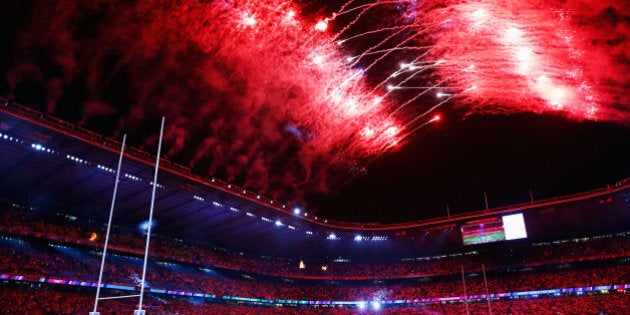 An opening ceremony that was full of meaning and history launched the 2015 Rugby World Cup at the iconic 'home of rugby' - Twickenham Stadium.
In a visit to its beginnings in 1823, a story was told of the path rugby has taken, including a cameo by Prince Harry, along a visual journey that touched on the cites where the games will be played.
Twenty legends of rugby representing the twenty nations at this World Cup – including Australia's Michael Lynagh – lined up on either side of the giant rugby ball that was the central focus on the field. They were each introduced, ending with England's only World Cup winning captain Martin Johnson, who needless to say, got a deafening reception from the crowd.
Then to the speeches of the official opening and a bearded Prince Harry took to the stage and won the crowd with his words.
"Rugby is a game based on a code of values: values which are as important today, both on and off the field of play, as they have ever been," he said.
It was clear this was not just a duty from his royal diary, but the representation of the passion for this sport that is being felt by the host nation and his final words said as much.
"In six weeks' time, one team will take its place in history," the Prince said.
"It's up to every one of us to raise the roof on each match in this unforgettable journey. The players have earned it. The nations deserve it. And the fans expect it. We're ready. Game on!"
And with that, the Chairman of World Rugby, Bernard Lapasset opened the tournament and the first two teams went into combat.
England is fielding its youngest team since the 1999 World Cup – 21 of the 31-man squad has debuted since 2011.
Fiji has a reputation for flair and innovative play but historically for being somewhat disorganised – not so much anymore!
With England running on bewilderingly wearing its away strip in red, the game was on.
In what was a nervous start for the Fijians, the England team took the advantage into half time with an 18-8 lead.
By the end of the game, both teams had equally made mistakes and excited with their play.
England were too strong in the end and most importantly finished with bonus points for scoring four tries which will be very valuable in this 'pool of death' come the jostling for the top two table positions.
Fiji were not shamed but perhaps made more errors than expected.
Australia's Wallabies will have been keenly watching from their base in Bath as the islanders are their first opponents on Wednesday.
In the end, the result went as expected and one of the world's biggest sporting events was off and running.
It should be an action packed six weeks ahead.