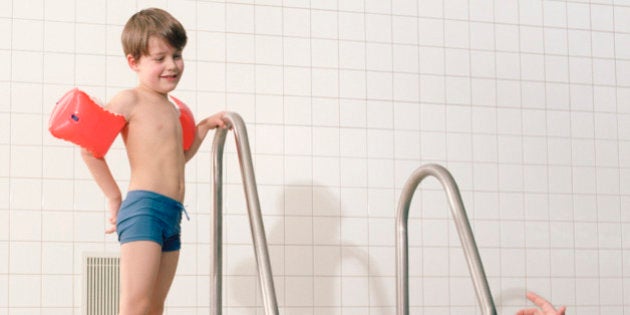 Here in Australia, locals are known for their relatively lackadaisical attitude to dangerous animals, but even the toughest huntsman-swatter can't help but feel a little freaked out by our oceans.
But it's not just big, white fish we should be scared of. Here's a rundown of the things that could prove fatal in our waterways in celebration of Water Safety Week.
Stinger season in the Northern Territory starts officially on October 1 but the state government is using Water Safety Week to helpfully remind residents that deadly box jellyfish stings have actually been recorded historically in every month of the year.
So really, you're never safe.
An adult box jellyfish can have 40 or more tentacles, each up to two metres in length and loaded with venom that causes excruciating pain and which can attack the heart and even cause death.
The territory's Injury Prevention Coordinator Meredith Neilson the only way to avoid a sting was to stay out of the ocean entirely.
"The best advice is to stay out of the sea but if you have to get in the water, cover up with a stinger suit or a shirt and long trousers," she said.
On the NSW north coast a concerning increase in shark attacks has led Surf Lifesaving NSW and the State Government to start broadcasting radio announcements between Port Macquarie and Ballina.
Minister for Primary Industries Niall Blair said there were ways to minimise shark risk.
"As summer approaches we want people to keep enjoying the water, while taking a few simple precautions," Blair said.
"The NSW Government is committed to making our beaches safer, and if people know the risks then they can reduce the chance of a close encounter with a shark.
SharkSmart tips include swimming in groups, looking out to avoid schools of baitfish, never swimming at dawn or dusk and sticking between the flags.
The state government is also asking surfers to avoid schools of baitfish and surf with mates.
In the seat of Canning, which never got the chance to send a signal to then-prime minister Tony Abbott in this weekend's upcoming by-election, the waterway problem is algae.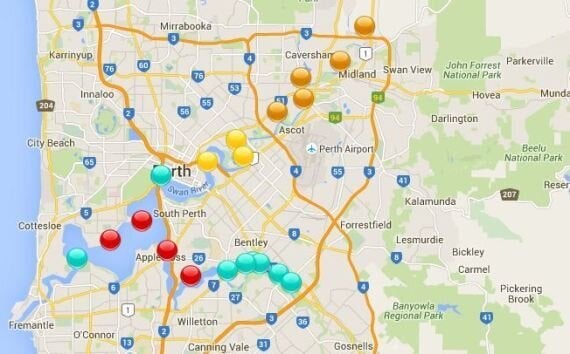 In Perth and beyond, the waterways are checked weekly for algae blooms, represented in red. Picture: The Government of Western Australia
While the algae won't do much more than give you an itchy rash, it can turn shellfish toxic and cause Diarrhetic Shellfish Poisoning.
Water Safety Week starts on Sunday, September 20. If you want to celebrate it on dry land, then we don't blame you.