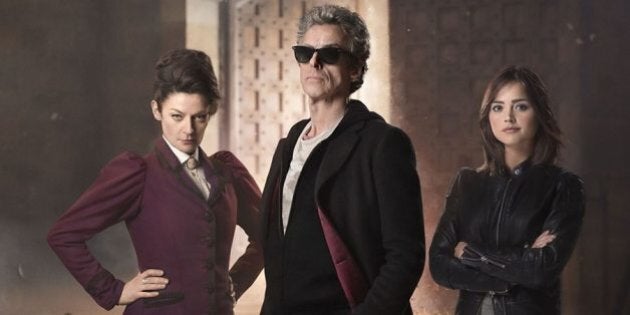 In the Doctor Who universe, death by Cyberman would normally be final -- an efficient and effective vaporisation of atoms. But as Michelle Gomez said of her character 'Missy', she takes "quite a bit of killing".
The ninth season of the rebooted 51-year-old program will be broadcast at 5.30am AEST on Sunday, and for the first time, will be available on ABC TV's iView platform at the same time the episode airs overseas.
Last year, 148,000 Australians set their alarms for before 5am to watch the season premiere, and the episode garnered over 1.1 million viewers who tuned in over the following week -- including 45,000 who shelled out $14 to see it on the big screen.
It reflects the long-time support the nation has showed for the program, which was first aired in Australia just six months after it launched on the BBC in 1964, and regularly wins its timeslot.
Gomez has been doing the publicity rounds ahead of the premiere, so it's clear her character would come back in some form. The Scottish actress said she secretly hoped Missy would return and was delighted to reprise the role of the Doctor's greatest frenemy.
"I can compare Missy to a cockroach. Keep squashing and she comes back and keeps coming back," she told The Huffington Post Australia ahead of the premiere.
"She's got this black molasses heart, wrapped up in a Victorian corset.
"She's a lot of fun to play. She gets to say the stuff no-one would dare to say. That's what I've enjoyed most -- I get to be deliciously mean.
"I hope it's a departure from real life, or is somebody trying to tell me something? Please, somebody give me an ingenue to play!"
To catch up, in the finale of season eight, Missy -- the Time Lord reincarnation of the Doctor's oldest friend and enemy The Master -- sought to take over Earth with the metal robot Cybermen. She was shot in the attempt by a rogue Cyberman, who turned out to be the Doctor's old friend Brigadier Lethbridge-Stewart.
This will be the second season to feature Peter Capaldi as the Doctor, in his 12th incarnation in half a century of television. Maisie Williams (Arya Stark, Game Of Thrones), will also join the cast as a guest star.
But Gomez said while her character had achieved a measure of respect from the Doctor and his companion Clara (Jenna Coleman), Missy was never to be trusted.
"Missy kicks off the new series and there is a very different dynamic between Missy and Clara, and that's not to be trusted," she said via phone from New York.
"There is actually, this time around, a mutual respect for one another. They need one another, they need to help other another in a way and that doesn't come easy to somebody like the Master.
"It doesn't end particularly well either".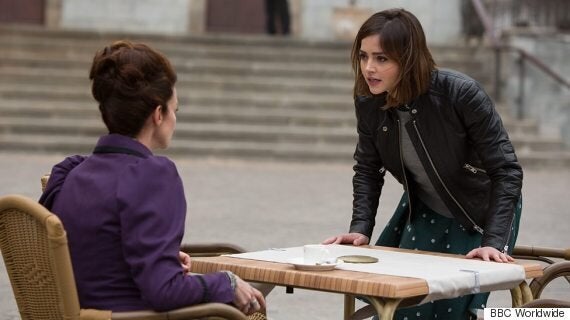 Missy (Michelle Gomez) and Clara (Jenna Coleman) work together to find the Doctor.
"It was interesting to seeing Missy have to use another manipulative tool -- which wasn't all bells and whistles and mass destruction -- using some of her more feminine wiles at a more subtle level.
"You never quite know where you are with her. She does it all with an unnerving smile, and we've got to have the lippy, Missy does like her lippy.
"And just when you think you're all having a lovely time together, she pulls the rug from under your feet."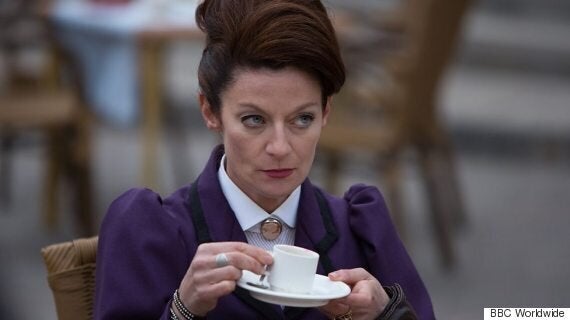 Michelle Gomez said her character was dastardly but feminine and loves her lipstick.
Capaldi described the new season as a madcap adventure, "a reckless Doctor in pursuit of adventure", while writer Stephen Moffatt described season nine as the "glory years" of the Doctor and Clara.
"The opening episode of the new series is fabulous - the story is going to take us across the Universe, into all types of dark, terrifying and funny places. It's a particular epic one to start, with lots of old favourites, Missy and the Daleks are returning and particularly for those who are nostalgic with the Daleks of the 60's, there are some special surprises in store," Capaldi said.
"It's not a sitting back, domesticated, reflective series,it's the Doctor and Clara roaring through time and space in search of thrills. So I think it's great, it should be a fun watch for audiences at home."
As for how to best enjoy the new series, Gomez has some tips for Australian viewers for Sunday.
"I sit down with friends and family to watch it when it goes out and it always comes as shocking to me -- I think we forget what we've done," she said.
"You've got to have people around you that have grown with the show and love the show. Get your PJs on, get on the couch, and get comfortable.
"There's no harm in having the odd Doctor Who cupcake, but I'd like it if someone made some Missy ones too."
Doctor Who Season 9, Episode 1, 'The Magician's Apprentice' will be available on iView from 5.30am (AEST) on Sunday and will be broadcast on the ABC at 7.40pm on Sunday.