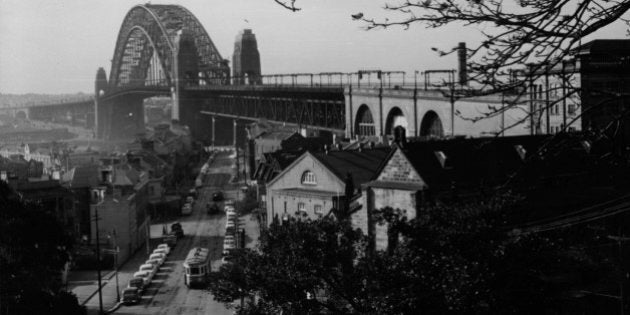 Images and oral histories chronicling Sydney's historic Millers Point have been released for the first time, providing us with a fascinating look into the lives of local residents born as far back as 1915.
The histories come as Millers Point residents are being forced to vacate their homes due to NSW Government plans to redevelop the area, where former public housing terraces are worth a small fortune.
Lord Mayor Clover Moore said the interviews paint a vivid picture of of life on Sydney's working harbour.
"This is the community that built much of Sydney -- Millers Point is more than just a collection of old terraces with good views, it's a strong, proud community, and their stories and their history matters," the Lord Mayor said.
"These voices are an important part of the City's oral history collection, which can now be accessed online so more people can learn about one of Sydney's most resilient and historic precincts".
Harry Lapham, a Millers Point resident born in 1915 recounts the stories of his childhood where you knew the names of the shopkeepers and tobacco wasn't sold on Sundays.
"They were the days when they had used to have to measure the butter out, had the box of butter, wooden paddles, scoop it out and weigh it out on the scales, a half a pound or a pound of butter, whatever you wanted," he said.
Under the state government's sell-off plan, more than 460 Millers Point residents will be relocated from 206 properties.
With the eviction date looming in March 2016, residents are standing strong, saying they will fight until the end to live in the homes many of their families have occupied for generations.
"This is a fair outcome. The proceeds from the sale … can make sure that we provide more homes for more tenants [and] invest in the upgrade of other public housing stock," she told The Sydney Morning Herald.
And because pictures tell a thousand words, here are some incredible images depicting life in Millers Point throughout the twentieth century.
CORRECTION: An earlier version of this slideshow had captioned a picture 'The view along Argyle Street, Millers Point 1955' based on captions provided by The City Of Sydney. It should have read 'Looking NE along Lower Fort Street from Argyle Street, Millers Point'. The slideshow has been updated to reflect that change.