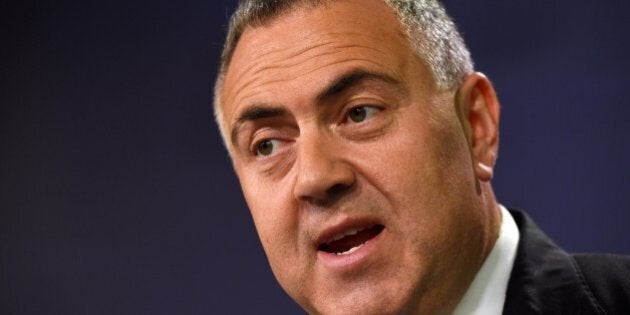 Former Treasurer Joe Hockey has made a statement about his shock resignation from parliament today, saying he was quitting politics for the sake of his young family.
He said: "After having served for nearly 20 years as the Member for North Sydney and 17 years on the front bench, I advised the Prime Minister that I did not wish to continue as a minister in the Government, and that it is my intention to resign from the House of Representatives.
"It has been a great honour to serve my local community as the second longest serving member for North Sydney since Federation. I have no desire to break Billy Hughes' record!
"I was a great privilege to serve on the front bench. In each and every ministry from Financial Services to Employment and Workplace Relations, from Small Business and Tourism to Treasurer, I have sought to do my very best for the people of Australia.
"I will have more to say in due course, but for the sake of my young family - to whom I owe so much - I have decided to bring my parliamentary career to a close."
During the week Hockey laughed off suggestions from the media that he would resign as Treasurer and that he would accept an offer of Minister of Communications. He has been replaced as Treasurer by Scott Morrison, as announced in today's cabinet reshuffle.
Reports are circulating that Hockey will replace Kim Beazley as Australia's Ambassador to the United States in Washington DC. A hint may be in Mr Turnbull's saying today that Hockey "had much more to offer the nation."