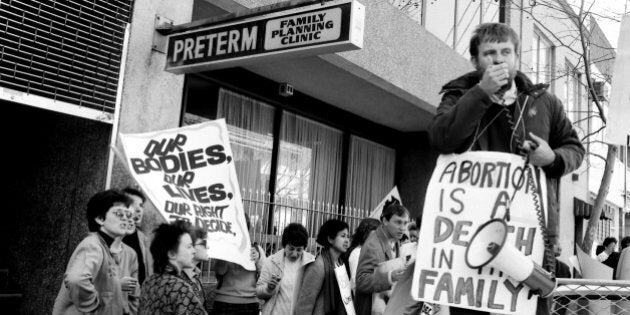 "Most patients are surprised to find abortion isn't completely legal. In NSW, it's still a crime to have an abortion."
Paul Nattrass is practise manager at the Private Clinic in Surry Hills, Sydney. Each day he sees women and couples enter his clinic. Many are shocked to learn that having an abortion is still not legal in the state. Most are more shocked, however, by the protesters who regularly camp outside the front door, often spouting religious-based criticism of the women entering. Nattrass said some protesters wear sandwich boards with photos of (they claim) aborted foetuses. Others brandish pamphlets or stand right by the door.
"A lot of patients come in not knowing abortion is still illegal in NSW, but the one thing that upsets them most is confronting the protesters," Nattrass told The Huffington Post Australia.
"It sticks in their mind. They remember the protesters more than the abortion."
It is this emotional distress the NSW Greens are hoping to prevent from happening, with a push to not only legalise abortion, but establish a protest exclusion zone around abortion clinics.
"This reform is long overdue with other states around Australia well ahead of New South Wales in abortion law reform. We need to do this to take abortion out of the grey area of the law and start to break down the stigma and silence that surrounds it," said Dr Mehreen Faruqi, the MP behind the bill.
"Women have a right to reproductive health and bodily autonomy with no legal ambiguity."
Division 12 of the NSW Crimes Act 1900 states "Whosoever, being a woman with child, unlawfully administers to herself any drug or noxious thing, or unlawfully uses any instrument or other means, with intent in any such case to procure her miscarriage, shall be liable to imprisonment for ten years."
Anyone administering drugs or using an instrument to "procure her miscarriage" may also face 10 years in jail.
Around Australia, abortion law varies widely. The Children By Choice site, which provides information about family planning, states abortion is legal Victoria up to to 24 weeks and legal after that with doctors' approval, while most other states allow abortion under certain circumstances. NSW and Queensland do not have the same legislative freedoms.
Dr Faruqi is spearheading the "End12" campaign, calling for Division 12 to be voided and for "protection zones" to be placed around abortion clinics to prevent protesters targeting women seeking an abortion.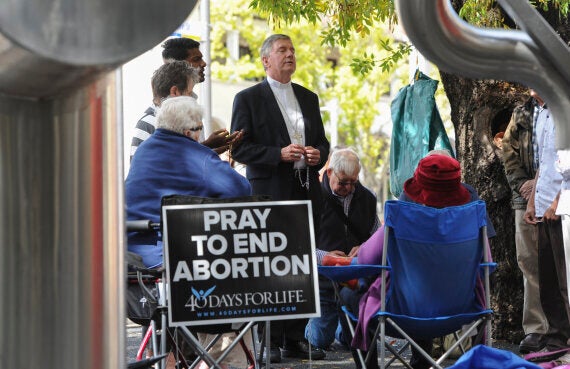 Roman Catholic Archbishop of Canberra and Goulburn, Christopher Prowse, centre, attends a prayer vigil outside the ACT Health building in support of the 40 Days For Life anti-abortion campaign (Fairfax Media/Graham Tidy)
"It is essential that we legislate for exclusion zones that are both enforceable and able to withstand legal challenges. Everyone has a right to medical privacy, respect and dignity, free from harassment and intimidation," she told HuffPost Australia.
"We anticipate that enforcement of the exclusion zones will be undertaken by the police and dealt with in the same way as other parts of the Summary Offences Act, such as offensive conduct and so forth. The intention of the bill is to allow women seeking abortion and reproductive health services to be able to do so free from harassment and intimidation."
Nattrass claimed several protest groups attended his clinic and other Sydney abortion practices, intimidating his patients.
"When [patients] confront protesters, they often come in distressed and upset. It's a bit sporadic, but we tend to get them on Saturday mornings. It's quite common to have a group of them," he said.
"There are a few different groups who allocate their times at various clinics. Most clinics around Sydney would have had protesters at one point or another."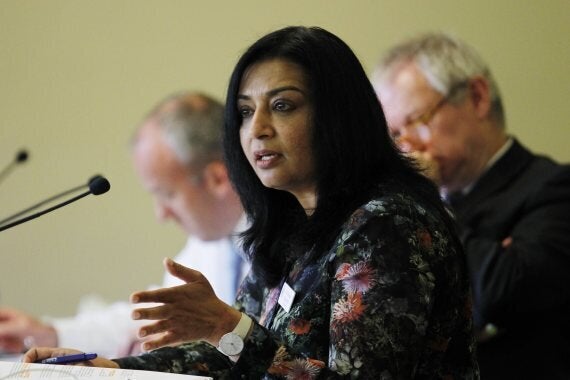 Greens MP, Dr Mehreen Faruqi, is leading a push to decriminalise abortion and implement protest exclusion zones around clinics (Fairfax Media/Max Mason-Hubers)
"Many people do not know that abortion still sits in the Crimes Act of New South Wales, until they or someone close to them needs to make a decision about it. The lawfulness of abortion—a health matter and a medical procedure—hangs precariously on the interpretation of the law by a District Court ruling in 1971," she said.
"The judge deemed that an abortion would be lawful under certain circumstances where it is necessary to prevent serious risk to life or health. This is simply not good enough."
She said the scenario meant abortion rights were not fully protected.
"While abortion remains in the Crimes Act, there will always be the risk of both persecution and prosecution of women and their doctors. It's time for the community and politicians to start the conversation and make these long awaited and much needed changes," Dr Faruqi said.
Right-to-life demonstrators block the doorway of the Preterm Clinic in Surry Hills in 1985 (Fairfax Media/Bruce Miller)
"Women have been waiting for this reform for over a hundred years now... Women's reproductive health is too important an issue to sit in the grey area of the law."
She also said she took the notion of free speech "very seriously" but that people should not have the right to protest in such a way outside clinics.
"Free speech is an essential part of our democracy. But harassment and intimidation, is not free speech, least of all when it is directed at people are accessing essential medical procedures," Dr Faruqi said.
"This bill is not about stopping people who oppose abortions from expressing their views. It's about providing safety to women who are walking into a clinic to have a medical procedure."