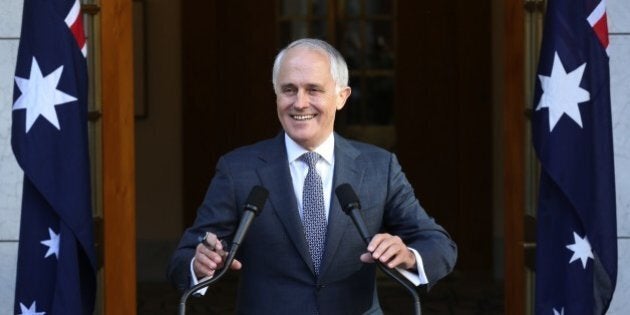 Prime Minister Malcolm Turnbull has announced his new front bench - "a 21st Century Government" - discarding Abbott loyalists and bringing in a new generation of politicians to cabinet.
Against predictions Treasurer Joe Hockey will not remain in cabinet, informing the Prime Minister of his intention to resign from parliament earlier today.
Losers in the shake-up include Defence Minister Kevin Andrews, Employment Minister Eric Abetz, Minister for Small Business Bruce Bilson and Resources Minister Ian McFarlane.
Scott Morrison will become Australia's new Treasurer, with Turnbull loyalist Arthur Sinodinos appointed Cabinet Secretary and continuing in his senior role advising the Prime Minister.
Those promoted to cabinet are: Simon Birmingham as Education Minister; Michaelia Cash as Minister for Employment, Minister for Women, and Minister assisting the PM for the public service; Marise Payne as Minister for Defence; Mitch Fifield as Minister for Communications and Minister for the Arts; Kelly O'Dwyer as Assistant Treasurer and Minister for Small Business; and Christian Porter as Social Services Minister.
Josh Frydenberg will be elevated to Cabinet as Minister for Resources, Energy, and Northern Australia.
Marise Payne, pictured below, will be Australia's first female Defence Minister. There will now be five women in cabinet and a woman serving as Minister for Women in cabinet.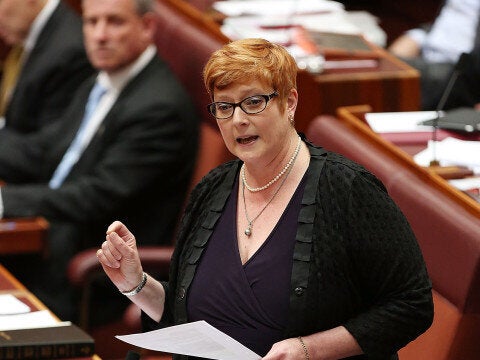 Many roles remain unchanged: Peter Dutton retains his role as Minister for Immigration. Mathias Cormann stays as Minister for Finance, Sussan Ley remains as Minister for Sport and Health, George Brandis remains as Attorney-General (although he loses his arts portfolio), Julie Bishop remains as Foreign Affairs Minister, Andrew Robb remains as Trade Minister, while Greg Hunt remains as Environment Minister.
Christopher Pyne moves from the education portfolio to act as the Minister for Industry, Innovation and Science.
Mr Turnbull said: "Christopher is going to be at the centre as is the whole Government of one of our most important agendas. If we want to remain a prosperous, first world economy with a generous social welfare safety net we must be more competitive, we must be more productive, above all we must be more innovative.
"We have to work more agilely, more innovatively, we have to be more nimble in the way we seize the enormous opportunities presented to us. We're not seeking to proof ourselves against the future. We are seeking to embrace it," he said.
Just before the Prime Minister's cabinet announcement this afternoon former Defence Minister Kevin Andrews held a spoiler press conference announcing his disappointment at not being asked to continue in his role.
"My remaining in this job was not about me, it was all about the stability of our Defence Force in Australia and its leadership. Mr Turnbull's decision now means there have been more defence ministers in Australia than prime ministers in the last three years," Mr Andrews said.
Mr Andrews said he would continue to serve the "broad church" of the Liberal Party and that he looked forward to standing again in the Menzies electorate at the next election.
In his press conference, Mr Turnbull emphasised that his new cabinet signalled a process for renewal and an introduction of new talent. It also meant that people had to stand aside, he said.
"Earlier today the honourable Joe Hockey told me that he would not be seeking a place in the new ministry and it was his intention to resign from the parliament in due course. Joe has made a long and distinguished contribution to our nation's Government and parliament over many, many years, for which I thank him. I believe he has a further contribution to make in our nation's service," Mr Turnbull said.
Mr Turnbull appointed Ken Wyatt as Assistant Minister for health - the first indigenous MP to be elevated to the Federal Executive Council. Meanwhile, Wyatt Roy was rewarded for his loyalty by being made Assistant Minister for Innovation. Parliamentary secretaries will now be referred to as assistant ministers.
The new cabinet will be sworn in tomorrow morning.