In an ideal world we'd magically know when to visit the doctor at any given time. We'd know when to act on a suspicious lump, and be completely in tune with every little change in our body. Unfortunately though, we are only human and life gets busy. Between work, kids and the endless to-do lists, we often neglect the most important thing -- our health.
That's why, a new documentary fronted by journalist Tracey Spicer is shining a light on the stark reality that Australian women are still living in the dark about their personal breast cancer risk.
The 'bare all' documentary follows Spicer, who confesses to going seven years without a mammogram, on a personal quest through her own detection experience.
"As women we get so busy with our lives -- I had a false positive in my 30s and very soon after I was on IVF," Spicer told The Huffington Post Australia.
"Soon after I had two children very close together and lost my job at the same time before suddenly waking up years later to realise I'd completely neglected my health," she said.
A national survey found that while almost two in three women know someone diagnosed with breast cancer, a mere 23 percent admit to undertaking adequate self-detection step, and just under half with an immediate family member diagnosed is unaware of their heightened risk.
Spicer says she's on a mission to empower as many women as she can to take action and know their cancer risk.
"We get on the treadmill that is life and don't think about our health," said Spicer.
"But the time for complacency is over -- women need to talk about changes or lumps in their breasts and discover their family history and whether they are high risk or not," she said.
The documentary delves into the lives of other Australian women who've experienced breast cancer first-hand. Of those is Krystal Barter, founder of Pink Hope.
Barter, who has a family history of breast cancer is shown recounting her experience of having her breasts removed at 25.
"I went in for my last high-risk screening and they wanted to rush me upstairs for a biopsy. My mum burst into tears and I just said, it's ending with me, it's such a small price to pay for my sanity and for my future."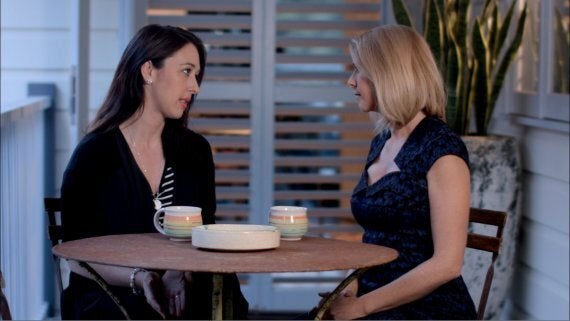 Speaking to HuffPost Australia, Barter says she hopes the documentary will ignite conversations around early detection and your family history.
"Understanding your risk can be overwhelming at times but at the end of the day it's a simple conversation to start, so you've got to start it," she said.
The documentary also looks at dense breast tissue -- the tissue most women under 50 have, which is a risk in itself.
"It's very hard to pick up lumps in dense breast tissue using traditional 2D mammograms, but the good news is the 3D mammogram examines tissue by tissue -- providing a more accurate diagnosis," said Spicer.
Breast Radiologist at the Royal Women's Hospital in Melbourne, Dr Clair Shadbolt said, "Breast structures can overlap in a traditional 2D mammogram, which can cause some cancers to be missed or produce 'false alarms' as normal tissue can appear as abnormal."
"This can lead to unnecessary further testing and increased patient anxiety," she said.
"It's important high risk women know their options for the most beneficial detection method for their situation. My advice to women is to talk to your doctor to determine your risk level and the most appropriate course of action," she said.
Friday 25 September is Pink Hope's Bright Pink Lipstick Day while the month of October marks Breast Cancer Awareness Month.