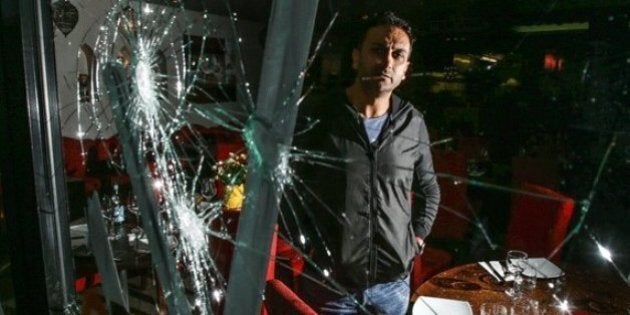 The owner of a Lebanese restaurant targeted in apparently racist attacks has spoken out about his shock and fear.
Mohamad Zouhour, owner of popular Lebanese restaurant Arabella in Newtown, took to the Facebook group Humans of Newtown days after the attack to tell of "seven or eight months" of verbal abuse over the phone and racist graffiti attacks on the premises.
The restaurant's windows were shattered on Sunday shortly after Zouhour left work.
"I've been here 14 years. I've never had problems like this before," he said in the post.
'I feel scared. Who's going to protect me at the end of the night? I don't know if they're watching me, or not. My family gets scared when they see things like this.
"They don't want me to work anymore. They said what if they come next time and you're there and they know I will defend myself and things will be worse."
In the post Zouhour said he had been targeted by a series of phone calls and racist graffiti over the past eight months.
"'Also on the Friday my window cleaner told me to come and see what they'd scratched on the window. They'd written "F*** Arabs," he said.
"'I don't know why this guy or guys think I'm the leader for Arab people or I'm the leader for Muslims -- they're calling me to abuse me about what's happening overseas or something like that which is not my fault.
"I'm not doing nothing wrong here."
Police on Wednesday charged a 23-year-old Kogarah man after a ceramic basin was smashed at a King Street restaurant on Tuesday night.
A group of people inside the restaurant confronted the man on King Street and held him while they contacted police – who during a search of the man allegedly found a quantity of the methamphetamine, 'Ice'.
He charged with malicious damage, possess prohibited drug, and two conviction warrants.
Police say inquiries are continuing to see if there is a link to the attack on Arabella's on Tuesday.
The man has been refused bail to appear at Newtown Local Court on Wednesday.