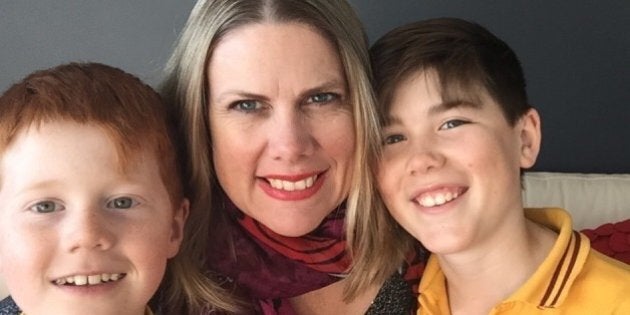 A cancer diagnosis was far from Sarah Lewis' mind when she enrolled her two sons in a new school, in a new country.
"They had no friends yet, just each other," Lewis said of her boys, then aged 7 and 4.
"I was anxious for them to make friends and fit in now that we'd returned to Australia -- all the normal emotions and anxieties a mum has when their kids start at a new school.
"Then 10 days later I found out I had breast cancer."
She said one of the hardest aspects of the diagnosis was sending her children off to school.
It's a concern the Cancer Council says is shared by many parents, and they've launched a new resource to provide guidance called Cancer in the School Community.
For Lewis, one of the main concerns was schoolyard conversations about cancer.
"My husband and I decided we wouldn't use word 'cancer' because we had very little control about how other children and teachers used the word," Lewis said.
"I was quite certain the only other stories kids would have about cancer would be things like: 'my pop died of cancer'.
"We sat them down and explained that mummy had germs in her breast that needed to be removed."
The Lewis family also sat down with the school principal.
"We explained everything to the school, of course they barely knew the boys, however they were very understanding, and we told them how we'd explained it as a family, and they were willing to take on that level of information."
What Lewis didn't know, was the school went beyond that.
"I didn't know it at the time, but every Thursday, I would go to hospital for various therapies," she said.
"I didn't realise that my eldest son became quite anxious around lunch time on Thursday -- he knew where I was and that I'd be coming home that evening very sick.
"The school picked up on that and they started giving him special art classes on a Thursday.
"It was diversion therapy."
Director of Cancer Programs Kathy Chapman said schools could make a difference in the way children cope with cancer in the family.
"It is important to remember that every cancer journey is different, and each person in the school community will navigate that journey in their own way," Chapman said.
"Talking about cancer is never easy, and many people feel concerned about saying the wrong thing.
"This new Cancer Council resource provides guidance on the best approach for discussing cancer in and around the classroom, including how to address the topic with different age groups."
About 1000 school-age children are diagnosed with cancer each year as well as more than 120,000 adults.
Lewis has been cancer free now for several years and she said her children now understand what she went through.
"Being sick is a normal part of life, just as getting well is," Lewis said.