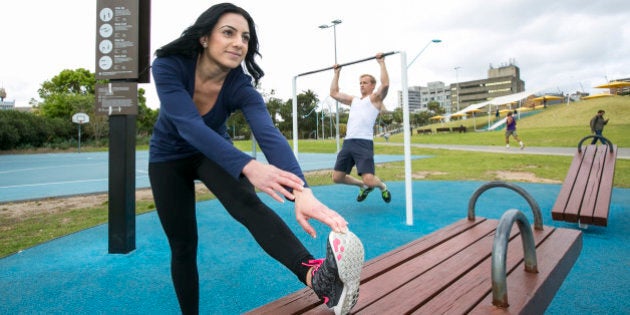 If you live in Sydney, plans are in place to make sure your home is no more than 800m away from an outdoor exercise station.
The stations, to be built over the next seven years, are equipped with old-school equipment based on your own body weight like chin-up bars and step-up benches.
They also leave space for new personal training trends, incorporating bring-your-own ropes, harnesses and bands.
Lord Mayor Clover Moore said almost 60 per cent of Australians were either sedentary or had low levels of physical activity.
"But access to large, high quality and attractive open spaces with the right facilities can increase levels of physical exercise," Moore said.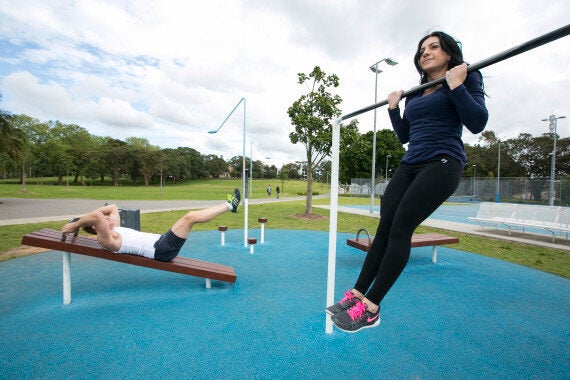 Traditional pull-ups and sit ups remain popular. Picture: City Of Sydney
"Low levels of physical activity are linked to obesity and chronic diseases, so it's important the City provides plenty of safe, inclusive facilities for fitness and physical exercise, especially with so many residential apartments in our area."
The first site set for new equipment will be Rosebery's Turruwul Park, with more likely to follow over time in Glebe, Alexandria, Pyrmont, Surry Hills, Erskineville, Green Square, Chippendale, Waterloo, Millers Point and Potts Point.
Sydney isn't the only city getting residents active -- Brisbane City Council has 80 parks with exercise equipment and a mostly free program of group classes using the facilities.

There are more than 80 exercise stations in Brisbane. Picture: Brisbane City Council / Bing