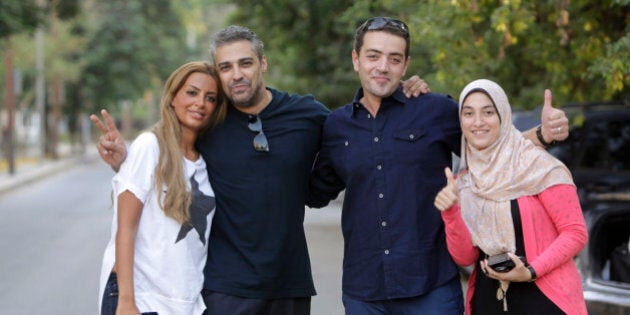 Australian journalist Peter Greste has said he is "overjoyed" by the release of two Al-Jazeera colleagues who were pardoned by Egypt's president overnight, while his own status remains unclear.
"I'm absolutely overjoyed for Fahmy and Baher, (it's) absolutely fantastic news," Greste told Al-Jazeera.
"More than anything else, we've been concerned for their safety, we've been concerned for their wellbeing.
"There was never any reason for them to be in prison in the first place."
Greste told RN Breakfast he had spoken with both men.
"They are over the moon, they are with their families," he told host Fran Kelly.
The three journalists faced charges including aiding the now-banned Muslim brotherhood, which they strongly refuted.
They were sentenced to seven to 10 years, but the case was thrown out and a retrial ordered.
Earlier this year, Greste was deported to Australia, while Mohamed and Fahmy were released on bail.
Egypti's president Abdel Fattah al-Sisi pardoned 100 prisoners as a gesture on the eve of Muslim holiday Eid.
It follows a concerted international campaign to have the journalists released, which had the support of US President Barack Obama, Australian Prime Minister Malcolm Turnbull and Foreign Minister Julie Bishop.
The pardon came just a day before al-Sisi was due to meet with international colleagues at the UN general assembly.
The pair was dropped in their prison garb outside a local high school.
"I was scared for his health from too much joy," she said, adding that the first thing they plan to do is have a large wedding party to celebrate their recent marriage.
Greste yesterday attended the opening of a tribute to war correspondents at the Australian War Memorial. He recently released a book of letters of support he had received while imprisoned, which he described to The Huffington Post.
It is unclear whether Greste, who was released and deported from Egypt, would also receive a formal pardon.
He told RN Breakfast today: "The last thing I want is a criminal record hanging over my head".
Greste was told the news while appearing live on ABC TV's The Chaser last night. A studio aide handed him a phone with the news.