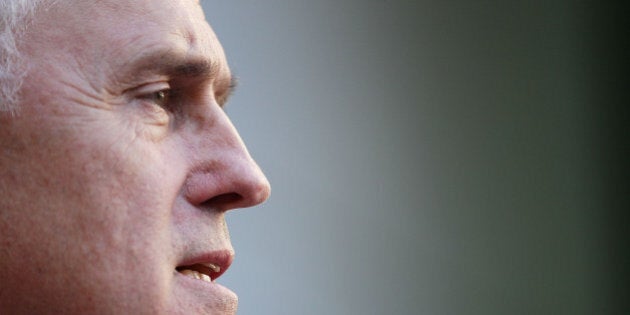 Disrespect for women can lead to violence and should be treated as though it were "un-Australian", Prime Minister Malcolm Turnbull said as he announced a $100 million family safety package to bolster front line domestic violence services.
Turnbull made the announcement in Melbourne on Thursday alongside Australian of the Year Rosie Batty, former Victorian Police commissioner Ken Lay and Minister for Women Michaelia Cash.
The sweeping package will bolster domestic violence frontline services and includes upgraded security for homes, 20,000 mobile phones for at-risk women and the trial of GPS tracking for abusers.
"Violence against women is one of the great shames of Australia," the Prime Minister said.
"It is a national disgrace. Already this year, 63 women have been killed by their partners or a family member. In New South Wales, in the last three days, three women have been killed in these circumstances and one baby. Three incidents in three days. This is a disgrace.
"We have to make it as though it was unAustralian to disrespect women. We must become a country which is known for its respect for women."
Senator Cash said general practitioners, on average, see up to five women a week that have suffered from domestic violence.
The package includes a $17 million initiative to keep women safe in their homes, which Senator Cash said essentially enables women to get CCTV, panic buttons and better security systems.
"Why is it that the woman and the children have to leave their home?" Senator Cash said.
"We need to reverse that. As the Government, we need to be putting in place the measures we can to take steps to ensure the woman's safety."
The Government will also trial GPS technology for abusers and deploy 20,000 mobile phones for women who need access to technology that may have been compromised by their abuser.
The package also includes $2 million for a men's line.
"The technology announcements are very, very positive," said Lay.
"For too long those of us, particularly with a police background, have seen women terrorised and hurt and damaged by men using technology. The opportunity now is to actually think a bit more broadly in this space to help make women safer."
Batty, whose son Luke was killed by his father, said she had spoken at 250 events and reached out to 50,000 people this year.
"I'm really very emotional," she said.
"There have been thousands of people through decades working so hard to get to this point where we accept and acknowledge this is a gender issue.
"We finally are starting to hear from the leaders of our country that they are addressing this issue, that they recognise the responsibility they have to lead our society, our communities, by speaking the language we need to hear."
She said two women a week are being murdered, while one in three women and one in four children are affected by violence.
The Federal Government has been under pressure to do more to deal with the crisis given the high number of deaths this year attributed to domestic violence.
Labor's families spokeswoman Jenny Macklin said the package was a good start, but more money was needed for legal advice and more refuge services.
"Support services are overwhelmed by women and children fleeing domestic violence," she told the ABC.
"I hope this is just a start.
"I hope Mr Turnbull will respond to these calls for a domestic violence summit.
Shortly after becoming PM, Turnbull said domestic violence had been ignored for far too long.
"We must have zero tolerance for it," he said.
"Real men don't hit women, we have got to be very determined to eradicate it."