Peter Greste gets word of the #FreeAJstaff pardons on set of T...

An amazing unexpected night on #mediacircus with Peter.Greste Malcolm Farr, Tory Shepherd, Stephen K Amos, Zoe Norton Lodge and Jules Morrow. Right at the end of the pre-record for tomorrow night's show ... after Pundemonium no less ... word reaches the floor of the #freeAJstaff pardons. This is how it happened ...

Posted by The Chaser on Wednesday, 23 September 2015
Australian journalist Peter Greste was appearing on live late night TV panel show Media Circus, when the host mysteriously walked off set.
Craig Reucassel returned with a phone, presenting it to Greste. The studio audience was in the dark, but the broad smile on Greste's face relayed the news -- his incarcerated colleague Mohamed Fahmy had been freed.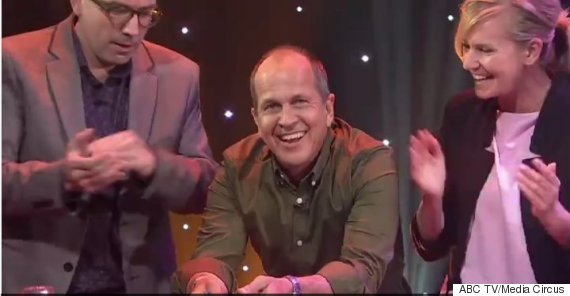 "Oh my God," Greste said.
"If he's got a pardon, it means -- and God, I hope it means -- that Baher (Mohamed) is out too.
"I'm sorry, I'm feeling really emotional. We've been fighting for the past eight months for this," a teary Greste said.
To audience applause, Greste raised his arms in celebration.
It later emerged Baher Mohamed had also been released.
Greste had earlier on Wednesday attended the opening of a tribute to war correspondents at the Australian War Memorial.
He recently released a book of letters of support he had received while imprisoned, which he detailed in a blog on The Huffington Post Australia.
It is unclear whether Greste, who was released and deported from Egypt, would also receive a formal pardon.
He told RN Breakfast today: "The last thing I want is a criminal record hanging over my head".