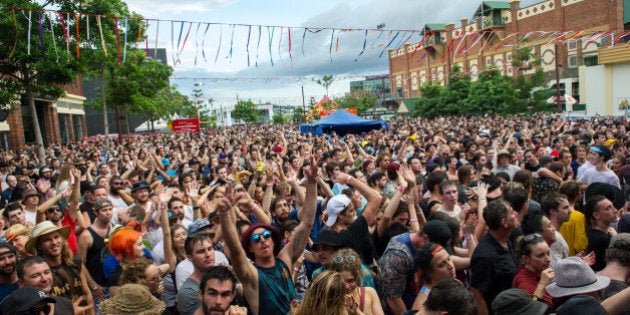 The lineup for St Jerome's Laneway Festival 2016, was announced on Tuesday with headlining acts including Aussie favourite Flume, as well as Chvrches, Grimes and Hermitude.
To celebrate, we've put together the ultimate list of festivals that you must attend at least once in your life!
1. St Jerome's Laneway Festival
Where: Sydney, Melbourne, Brisbane, Adelaide and Fremantle
When: Sydney - 7 Feb 2016
Cost: $165.00 (including booking fee and GST)
Starting as an indie music event in Caledonian Lane, a narrow, quiet street in Melbourne's CBD, Laneway Festival had grown to become one of Australia's top music festivals. It has earned it's reputation for its indie culture and authentic vibe, showcasing underground Aussie talent amongst big international acts.
Where: Glastonbury, England
Sometimes called the grandaddy of British music festivals where middle aged hippies come out to play, Glastonbury is a muddy music mecca in the English countryside. The multitude of areas makes it feel like a many festivals rolled into one, each offering a unique experience of performers, installations, dance, comedy, theatre, circus, cabaret, and other arts. Don't forget your glitter and gumboots!
Cost: Free to run. You might have to pay a small charge to get prime seats to watch!
Pamplona's famous Running of the Bulls festival, known by the locals as encierro, takes place each July as part of the week long San Fermín festival, the most internationally renowned festival in spain. The bull run occurs at 8.00 am each day of the festival.
Thousands of brave young spaniards and tourists alike risk death to run ahead of a small group of cattle who have been let loose in a sectioned off area of the street.
The practice originated in the fourteenth century in northeastern Spain, as men would try to speed up the cattle they were transporting to the market by running to scare and excite the animals. This soon became a competitive sport and so developed into the modern day festival tradition.
Running with the Bulls can be an exhilarating and rewarding experience, but do so at your own risk. Each year there are very serious injuries and often deaths - both from the bulls and also as a result of being trampled by the stampede.
If you're not up for a run, you can watch safely from the sidelines and still be part of the atmosphere of this fantastic festival.
4. Splendour in the Grass
Where: Byron Bay, Australia
When: Late July - Early August
Splendour in the Grass is a classic Aussie festival which takes place in Byron Bay on the north Coast of New South Wales. Always featuring fantastic lineups and ample amounts of mud, Splendour is one for the bucket list.
Cost: Full 3 days: Around $370
Taking place in the appropriately named town of Boom, Tomorrowland is one of the world's biggest Electronic Dance Music festivals. It's success has seen spin offs in the United States in the form of TomorrowWorld, and Brazil. Fun fact: While it is forbidden to use, deal or be in possession of drugs inside the festival grounds, there are special drug boxes outside the event where you can dispose of any illicit substances, without any consequences.
Holi celebrates the arrival of spring, and is a joyful occasion in many Hindu countries including India and Nepal. The festival begins with a Holika bonfire, followed by a free-for-all carnival of colours, where people frolic with colours powders and coloured water, sometimes in water pistols or water bombs. The colourful city-wide water fight takes place in the open streets, parks, outside temples and buildings, and everyone is fair game. The people consume Bhang, an intoxicating ingredient made from cannabis leaves.
If you like a good food fight, La Tomatina is for you. Be prepared to get majorly messy at this tomato fighting festival, where 20 000 people paint the town red. In theory, the festival begins when a strong and brave volunteer climbs to the top of a two story high, greased up pole to reach a coveted ham which is placed at the top. In practice, the time consuming formality is ignored and the tomato throwing begins! The fight lasts exactly one hour, after which the mushy weapons must be dropped and the clean up begins!
Where: New York, United States
Governors Ball Music Festival is a multi-day music festival held on the Randall's Island in New York City. The perfect festival in the city than never sleeps, GOV BALL NYC, as it is colloquially known, features a variety of different music genres as well as pop up restaurants and activities like silent disco, ping pong, photo booths and lawn games. As if we need another reason to visit New York!
When: Late September - Early October
Cost: Free except for some of the best beer tents. And you buy your own beer!
Oktoberfest is the world's largest beer festival, which takes place each October in Munich, Germany. It is a sixteen day long folk festival, attended by more than 6 million people from all over the world. People dress in traditional bavarian clothing and enjoy a wide range of attractions, such as amusement rides, sidestalls and games. Traditional German food is served - and of course large quantities of German beer!
Where: California, United States
When: April 10 – 12 and April 17 – 19
Coachella Valley Music and Arts Festival, commonly known as Coachella, is one of the biggest and most profitable music festivals in the world. Featuring many genres of music rock, indie, hip hop, and electronic dance music, as well as art installations and sculptures in the middle of the Colorado desert, Coachella is a social event as much as a music one. Celebrity spotting is a must at this star studded weekend!
Tempted by this list? For flights, hotels and packages to get to you to thousands of festivals around the world visit Wotif.com, the home of holidays.