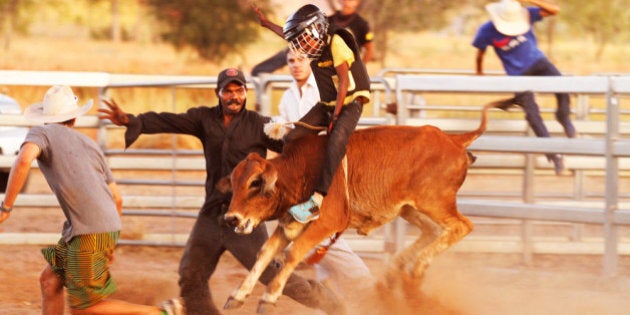 The boy cowers in the dirt and for an agonising second, the bullock is directly above him.
As it bucks skyward, there is something violently beautiful about the streamline curve of horn to hoof -- the immense muscular piston of a hind leg coiled with power and the fragile human form below.
The bull falls heavily, missing the boy by a millimetre.
He stands, all skinny wrists and ankles, and flashes a big grin to the crowd as he jumps the fence to safety.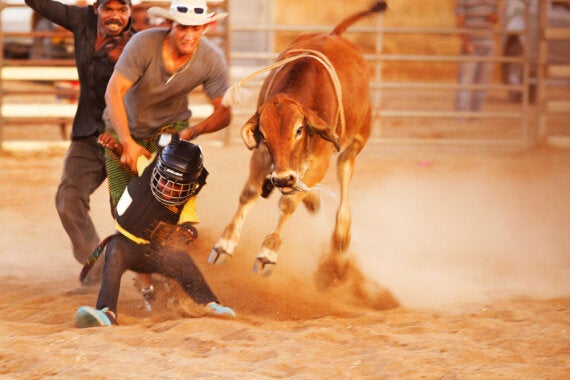 A boy is snatched from in front of a bull. Picture: Matthew Fallon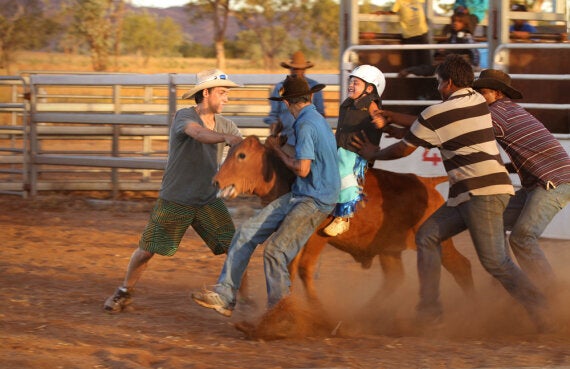 A boy is surrounded by rodeo 'clowns' on his first-ever ride. Picture: Matthew Fallon
In the aboriginal community of Warmun, WA, it's kids day at the annual rodeo.
Tomorrow is the main event where local men -- and one bold woman -- will ride bucking bullocks and horses against the Kimberley rodeo circuit riders.
But today, the whole community is out to watch these five-year-olds strap onto a raging little bullock and hold on as tight as their skinny fingers can manage.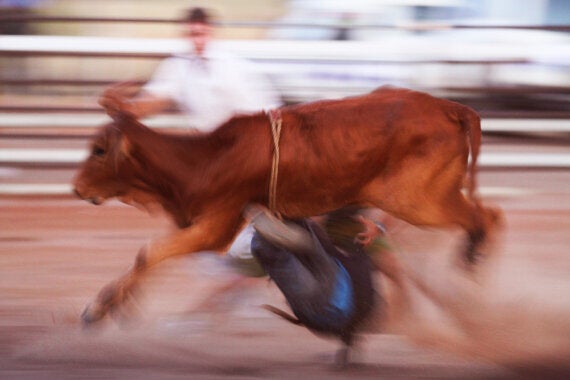 The moment a young man falls beneath a charging bull. Picture: Matthew Fallon

Everyone in the community comes to watch the rodeo. Picture: Matthew Fallon
Past the rodeo grounds, a savannah plain stretches for kilometres to a red rock escarpment that catches the afternoon light.
Boab trees cast bulbous silhouettes and whistling kites circle with the hot eddies above.
Behind the makeshift rodeo ground is collection of cul-de-sacs, borrowed from a universal suburb design manual, where 400 people live.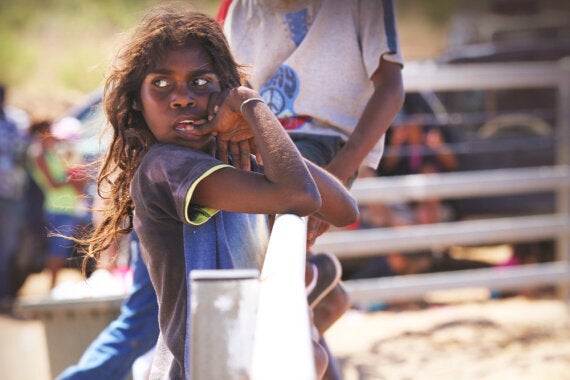 Watching. Picture: Matthew Fallon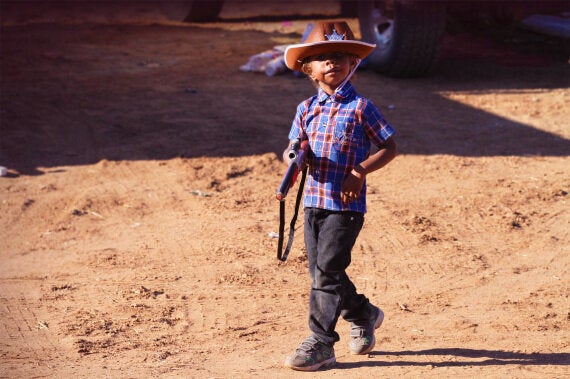 The cowboy life is not just an American tradition in the Kimberley. Picture: Matthew Fallon
The cul-de-sacs are named Top Camp, Middle Camp, Bottom Camp and, simply Other Side.
Aside from two petrol stations, there is no shop for a two-hour drive but today, Warmun feels like the centre of town as people clamber on top of Landcruiser 'troopies' and fences to get the best view of the action.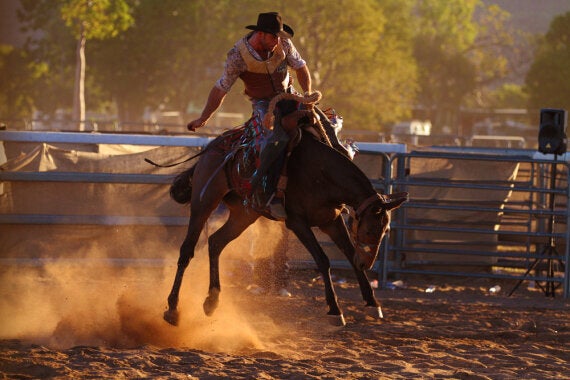 One of the professional rodeo circuit riders. Picture: Matthew Fallon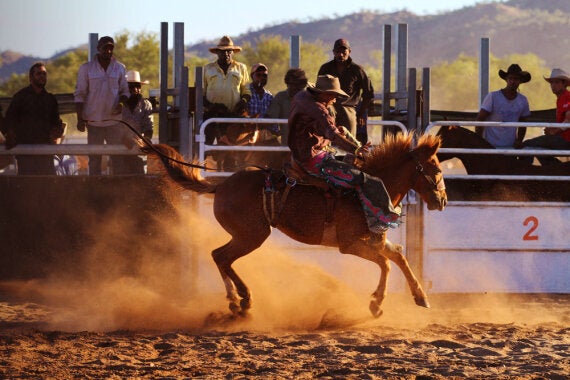 Note the appreciative audience. Picture: Matthew Fallon
A lanky little kid dressed vaguely like Elvis swaps his cap for a stack hat and walks timidly towards the stalls where the next bull is virtually climbing the walls.
Its hooves clash against the metal, making the elders' eyes gleam with memories and dust.
For the old men and women in the community, this is no American yee-haw tradition -- it's a part of their history.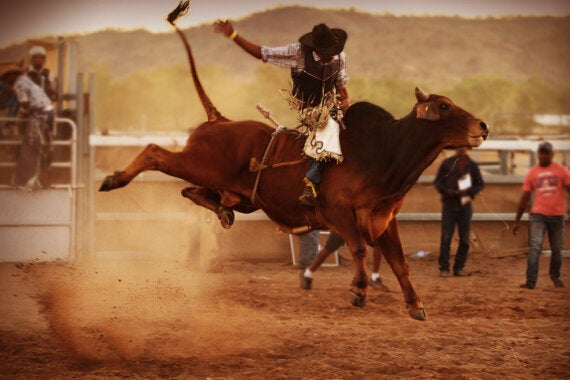 Horses and bullocks are ridden. Picture: Matthew Fallon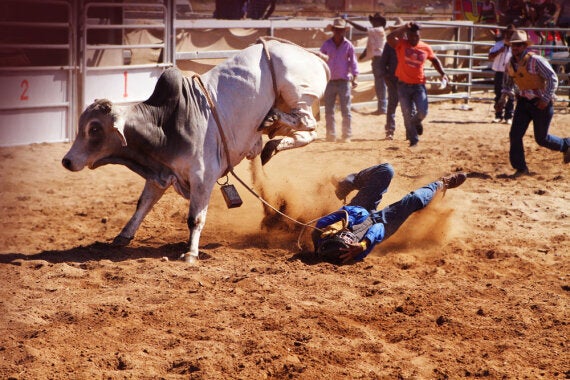 Everyone who rides, falls eventually. Picture: Matthew Fallon
The Warmun elders Rusty, Gordon, Patrick, Churchill and more sit in their Akubras with shiny belt buckles and RM Williams boots, which is as much a part of their contemporary culture as the Gija aboriginal roots that define them.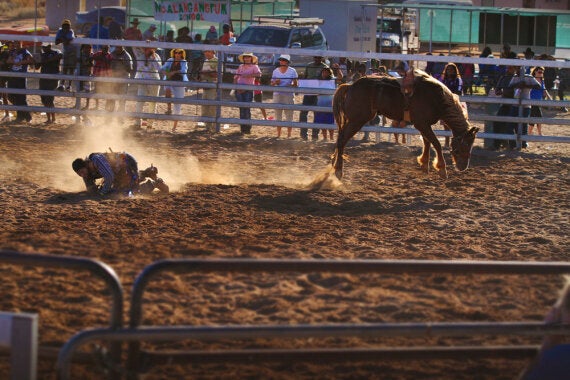 A rider crouches from the horse. Picture: Matthew Fallon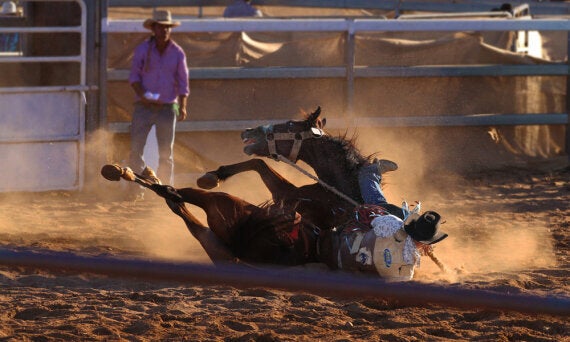 Some fall harder than others. Picture: Matthew Fallon
Many of the elders were born on stations in the surrounding Kimberley country, often beneath a tree that they can point out if you care to take them there.
Springvale Station, Mabel Downs, Texas Station and Lissadel Station are the names their ancestral lands have become known by.
It's with a melancholy and joy that the old men remember their station days.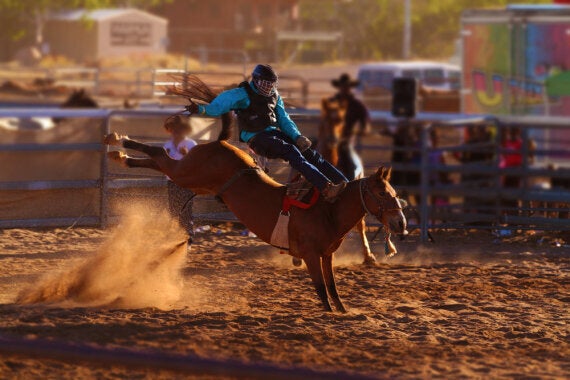 He's up. Picture: Matthew Fallon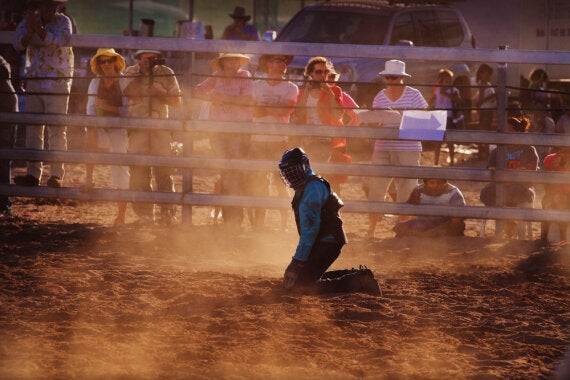 Then he's down. Picture: Matthew Fallon
They were indentured workers where the men broke horses, walked bullocks to Wyndham port 250km away and toiled their ancestral land for little to no pay.
There were bad station masters and good station masters, and every elder's experience was unique.
One thing was shared though -- they took fierce pride in their cowboy skills and told stories of being together at night, on their ancestral lands and, singing into the darkness.

The rider flips. Picture: Matthew Fallon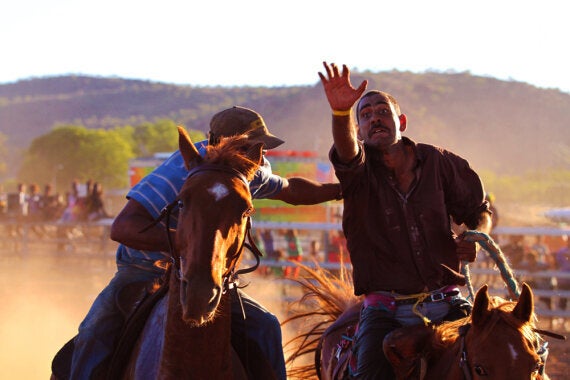 That look. Picture: Matthew Fallon
Homeless, penniless, jobless and dislocated from the land they felt they were born to protect, Warmun became a place where people went who could not go home.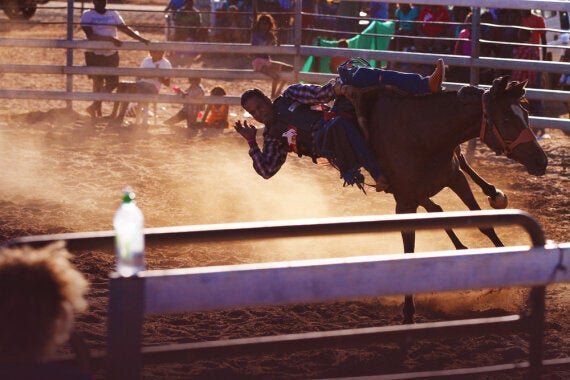 It's all about how you hold on. Picture: Matthew Fallon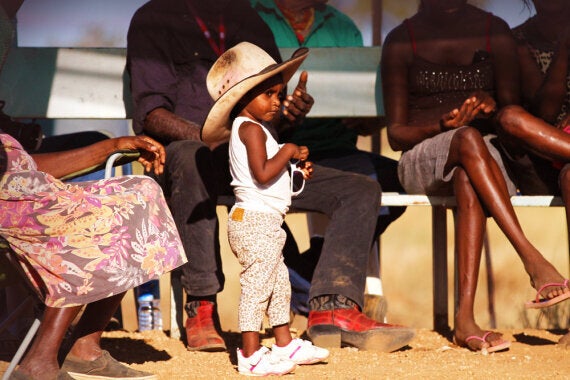 The next generation. Picture: Matthew Fallon
It's been five decades since, so when the elders see a plump five-year-old jump on a bull, they're seeing their own stories of land and country taken on by a new generation, with new opportunities.
As one elder tells me: "Everyone falls off. No one bin' riding forever. I watch them young kids. It makes me feel proud."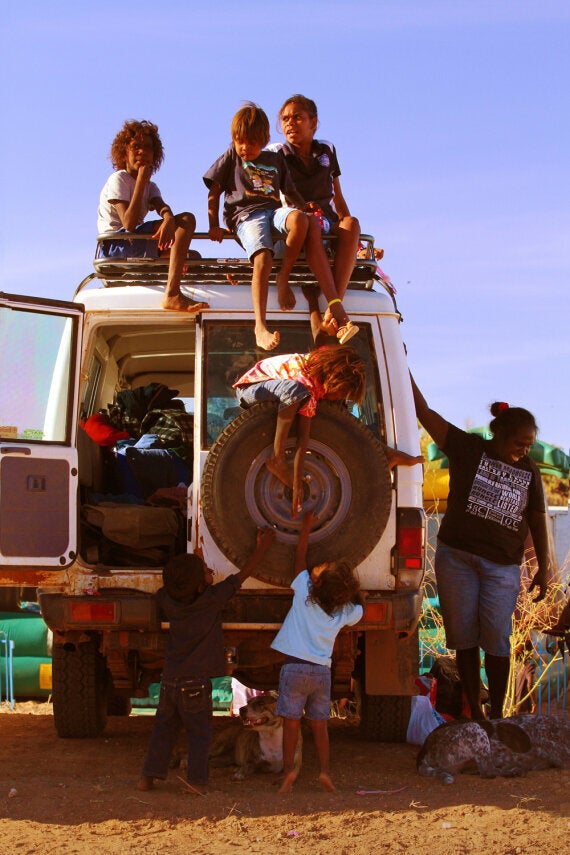 All aboard. Picture: Matthew Fallon
If travel is about having cultural experiences that push your perceptions and show you something astounding, sometimes the most foreign and compelling experiences come from within your own country.