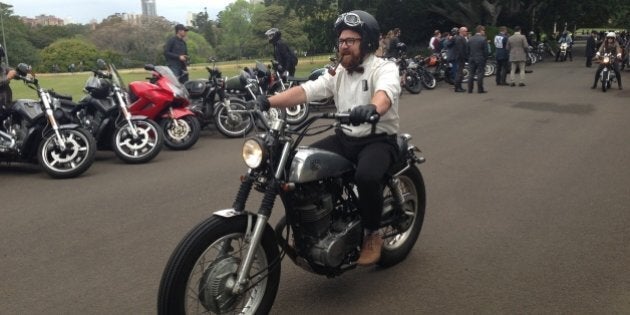 Lavishly attired in suits, bow-ties, scarves and bowler hats, and sitting astride hunks of metal, the motorcyclists roll by their hundreds into the grounds of Sydney's Government House.
They're here as part of the Distinguished Gentleman's Ride, a charity motorcycle ride held around Australia and the world. The event aims to raise money and awareness for prostate cancer.
It's a disease which kills 3,300 Australian men each year.
The ride is the brainchild of Sydney-based Mark Hawwa, who created it as a chance for classic bike owners to show off their rides.
But since its inception in 2012, it's turned into a successful fundraising event.
"Initially we simply wanted to unite the custom bike scene and smash stereotypes about motorbike riders," said Hawwa.
"After that first ride bought together 2,500 people we decided to galvanise that energy and start a conversation about men's health," he said.
"Cancer for me has always struck a bit of a sore point. I've had a few friends die from cancer," rider Nick Fraser told the Huffington Post Australia at the gathering on Sunday.
"Prostate cancer's one that's quite often overlooked and I think it's a really important one; especially since there's a lot of gents out here that ride."
The ride began in Australia and has since spread to 79 other countries. Last year, it attracted 20,000 dapperly-dressed bikers who raised more than $1.7 million dollars worldwide.
This year, they're aiming to almost double that - with a goal of $3 million.
By Sunday morning, the amount raised worldwide stood at $2 million -- $200,000 of which came from Sydney.
For rider Rowena Hawksley, "a mutual love of two wheels and speed" is what she thinks brought the 700-odd riders to the Sydney event.
And of course, the chance to fundraise for a good cause.
"I think everybody knows someone who's been affected by prostate cancer," she told HuffPost Australia.
"It's nice to feel like you're doing a little bit of good out of a little bit of fun."
Classic bikes were out in all their glory (James Bullen)
The fun was clearly on show as riders stood admiring the various custom and classic bikes parked up, pipes jauntily poking from many moustachioed mouths.
Matt Tilley, who's been riding a classic bike for about five years, says the spectacle is part of what brought him back for another ride.
"I came last year. It's the combination of the spectacle, the option to dress up, and raise some money for a good cause," he said.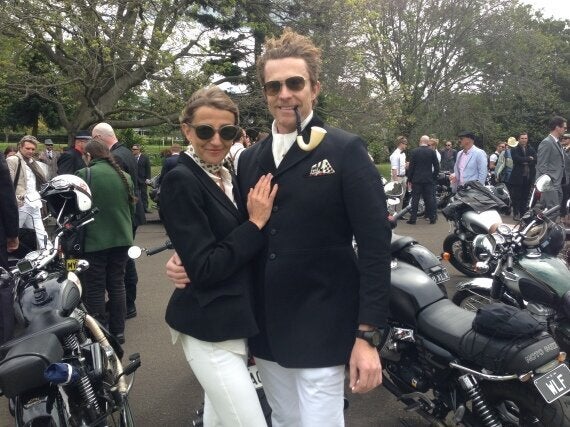 Rowena Hawksley and Matt Tilley (James Bullen)
The chief executive officer of the Prostate Cancer Foundation of Australia, Associate Professor Anthony Lowe, said the event was an important way to raise awareness of prostate cancer.
"The Distinguished Gentlemen's ride is a spectacular event. It takes the topic of prostate cancer onto the streets," said Associate Professor Lowe.
"This disease affects so many Australian men and the women in their lives. Getting men and women talking about prostate cancer and helping raise funds for research will help us save more men from dying each year."
Other rides in Australia were held in Brisbane, Perth, Melbourne and Canberra over the weekend.