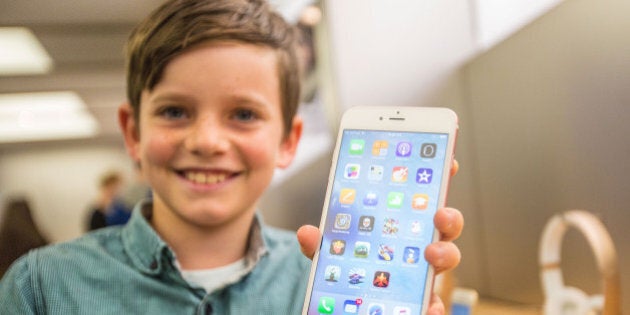 Friday saw the Australian launch of the new iPhone 6s and iPhone 6s Plus. Before its release on Friday, Telsyte revealed that there are 7.5 million iPhone users (as of end June 2015) in Australia -- safe to say that number would now be higher.
Rose Gold -- If you're obsessed with the copper interior trend like everyone else on Instagram, your phone will now match your pendant lights.
Live Photos -- your photos come to life with "Live Photos" -- when the camera catches the few seconds before and after the pic is taken, creating what is almost like a mini movie.
3D Touch -- Press any icon harder and you'll activate what's called "deep touch" -- adding another dimension to the way you do things by giving you menu items with a press of your screen. Adding a contact is finally a shortcut on the home screen!
Call businesses directly from Maps -- see a restaurant close by on maps and want to know if they can fit you in? Press into the listing using 3D Touch on your Apple Map and you get an option to call them immediately -- no more googling for the number.
Super steady handheld time lapse -- awesome for fashion shows, bush walks or music festivals.
Selfies just a step away -- 3D Touch means you can press on the camera app and the first option you get is to take a selfie. The display also doubles as a flash, so nightime selfies from the front camera are now a thing.
Hey Siri! -- Ask Siri to help you out in the day by just calling out "Hey Siri" without even touching your phone. She is smart enough to help with directions, setting an alarm clock, finding things in your phone or calling people.
See a flight status with a quick peek -- picking up a mate from the airport? Using 3D Touch in the email or text he's sent with the flight details and you will automatically get an update to whether it's taken off, landed or running on time.
Live photos on the lock screen -- Make your lock screen move with a live photo as your holding shot.
Stronger glass -- fewer cracks!