noodles
While we know we should avoid eating lunch at our desks when we can, sometimes it's just not possible. And for those times, Two-minute Desk Lunch Noodles from Sarah Wilson's new cookbook look so damn cool you'll want to run around to everyone else's desk to show them.
Pack this up in a big jar in layers, take it to work, add hot water and stir with a chopstick (or your pen). Done.
INGREDIENTS
1–2 teaspoons red curry paste
1 teaspoon red miso paste
Dash of fish sauce
Small handful of rice noodles
¼ cup coconut milk or cream (or use 3 cubes frozen coconut milk or cream)
Small handful of frozen peas (or thinly sliced snow peas)
½ cup Par-Cooked 'n' Frozen broccoli
5 cooked prawns, peeled and deveined, or a small handful of Shredded Chicken
3–4 green shallots, thinly sliced on the diagonal
Coriander leaves and lime wedges, to serve (pop them in a separate zip-lock bag)
METHOD
Place all the ingredients, except the coriander and lime, in a large jar in the order given above.
Whack in the fridge when you get to work. At lunchtime, pour over enough boiling water to just cover everything, pressing the ingredients down.
Cover and leave for 2 minutes, stirring once or twice. Top with the coriander and a squeeze of lime juice. Eat.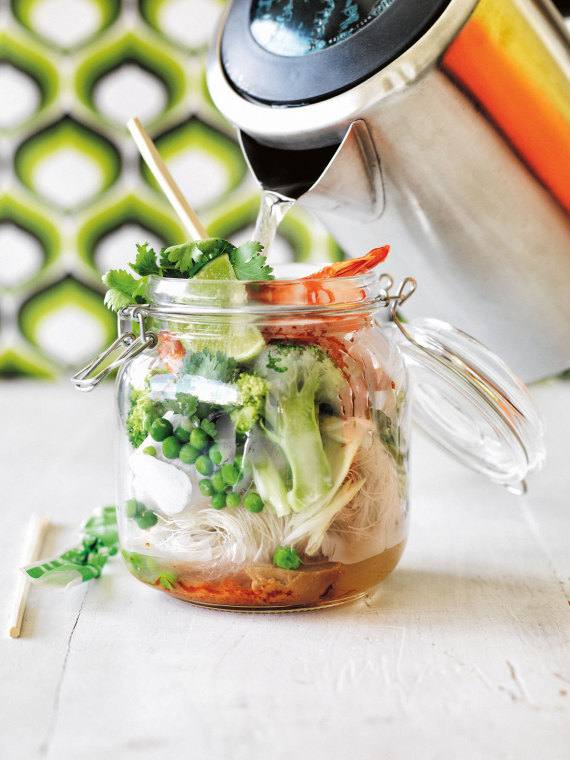 What prawns should you buy?
Only Australian prawns -- overseas ones are rarely sustainable. Look for Marine Stewardship Council–certified prawns (they certify prawns in 15 countries around the world). All prawns have sustainability issues in part because the bycatch is shocking. Depending on where they are trawled, for every prawn caught, up to 27 other species are trapped in the bycatch and tossed away. Please, pause on this.
Go farmed rather than trawled, due to bycatch issues. Australian farmed prawns are very high quality. Or go local estuary or river prawns, which aren't trawled.

I QUIT SUGAR: SIMPLICIOUS by Sarah Wilson is published by Pan Macmillan, RRP $39.99