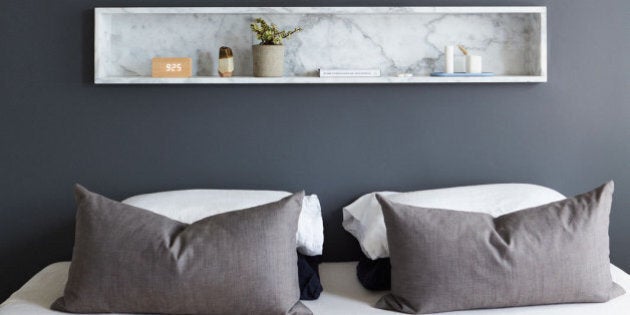 There are three young, hungry designers doing amazing things in the interior architecture space in Sydney right now.
Jade Nottage, Cushla McFadden and Chloe Matters founded TomMarkHenry after working together on a number of large-scale interior projects, and Sydney sure is glad they did.
How did the design trio TomMarkHenry come about?
"We have known each other for a long time through school and university, and started working together as TomMarkHenry in January 2014, having all worked previously in the industry. Chloe has a background in property development and interior design and has worked internationally and nationally refining her skills. Jade and Cushla are interior architects and have worked internationally and locally for architecture and interior design firms. After travelling the world and working in Sydney on our own ventures we were lucky enough to be able to work on a couple of jobs together where we realised the true potential of what we could deliver collectively."
Where did the company name come from?
"TomMarkHenry pays homage to three inspirational men in our lives who have shown strength and character that we emulate through our business. The name symbolises an interesting juxtaposition between the reality of us being three young female directors and the strong masculine dominance represented in the name. This name allows us to show an equal representation of our strength and masculine sides as well as the obvious feminine side."
What kind of design work do you do?
"We provide detailed and unique design solutions for a range of project types -- residential, commercial, hospitality and retail. We offer an extensive list of both architectural and interior design services to take each project from concept to completion. TMH combine these skills with a collaborative approach by developing strong relationships and understanding of our clients to best develop a harmonious space solution."
What are a few of your notable projects to date?
"Bondi's Best was one of our first projects we undertook together and it has to date been the most recognised and nominated. Being shortlisted for a total of three awards internationally and nationally. We love the client and are looking forward to more projects with them soon. Another recently completed project The Farm Wholefoods has also just been nominated for the Eat Drink Design Awards -- this was a great project to work on as it was created from fully sustainable and recycled material, on a very tight budget and timeframe. Also the Bellevue Hill apartment and the Paddington Terrace we completed have been recognised for some of the understated but clever details that were crafted. All these projects have been some of our favorite projects to date, but we are in the process of completing some seriously exciting things that we cannot wait to unveil."
What trends are you seeing in the commercial design space?
"We are seeing more refined palettes now that are moving further away from the rustic/industrial look. These refined palettes definitely emulate another trend, which is becoming more obvious -- that design is definitely about quality over quantity and high attention to detail, with a strong consideration of space."
What would TomMarkHenry's dream design project be?
"Our biggest dream is to design a luxury boutique hotel."