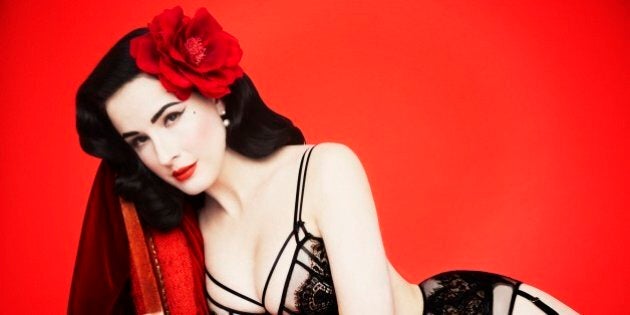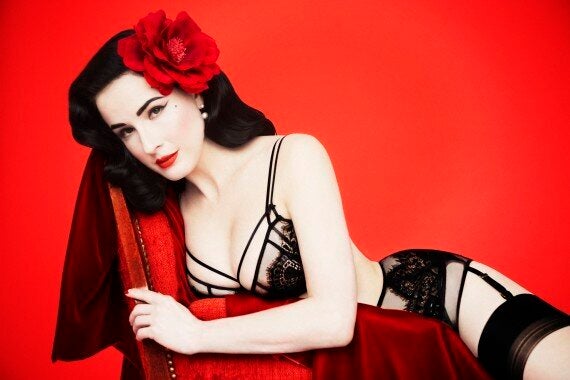 Dita Von Teese is many things -- queen of burlesque, badass feminist, master of old Hollywood glamour, actor and lingerie designer -- which puts her in good stead to comment on the recent social media promotion of "waist trainers" by a certain set of famous sisters starting with "K".
During her visit to Sydney last week to promote her own lingerie collection, the international star, who started out as a bra fitter in a lingerie store as a teenager, told The Huffington Post Australia she would encourage people to look a little deeper into where the idea of waist training comes from.
"I've been wearing corsets since 1990, so I definitely have an understanding of what corsetry is and how it relates to waist training -- I think it would be unfortunate that anybody would be looking to the Kardashians as a source of expertise in this," she said.
"To be honest, I haven't read much into it but my first thought when I saw what they were promoting was 'Oh my God, what are these crappy corsets they're selling -- they're awful!'" she told HuffPost Australia.
"A proper corset should be made for your body and there's people that are experts in making them -- corsets are not simply sized, Small, Medium and Large."
Von Teese, 42, is renowned for offering a lingerie line that caters for women of all sizes -- something she admits was important to her from the start.
"When I was first approached to create my own collection one of my first questions was what kind of sizes are we talking about because I know my fanbase -- and it's a lot of women of all different shapes," she said.
"When I'm performing, I see a vast audience of mostly women who are embracing glamour and retro style and they're all different shapes, sizes and ages."
The range is available in sizes 8A to 20F and features full figure briefs, suspenders, g-string and bikini in all styles -- a rare thing in the lingerie stratosphere -- although, she admits it hasn't been without obstacles in the design process.
"I'm always pushing to say can we make this up to a bigger cup size, but some styles can't support a larger bust and there are changes that need to be made which means it won't always look the same," she said.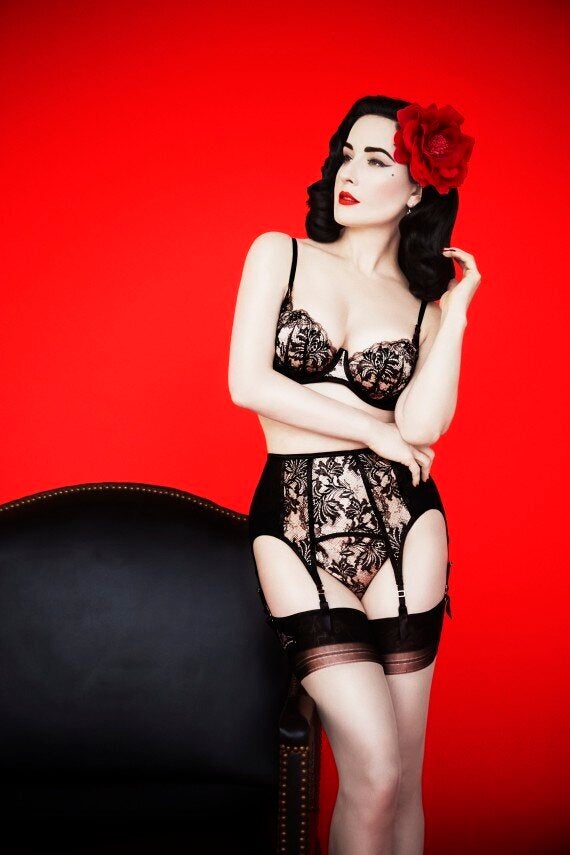 "In the same way I can't wear the wispy little triangle bras -- I would love to wear one of those, but I can't wear that and I accept that my body looks good in certain things.
"For everything that we can lament that we can't wear, we can definitely celebrate something that we can wear -- that someone else probably can't," she said.
And when it comes to the debate of body shaming, Von Teese is all wisdom.
"I hate this expression 'real women' so much -- like when people say 'I want to see more real women' -- well, there are lots of women that are thin naturally and a lot of the time they're vilified in the same way that bigger people are vilified," she said.
"We all have a right to be considered sensual and sexual and I want to see women being celebrated in different ways. I don't think we should be covering people up just because they're a certain age or shape -- it's ridiculous.
"I know some women like Sharon Stone and Madonna that capture all the attention of a room when they are amongst supermodels -- and I've seen it lots of times.
"It's about confidence and knowing who you are and not seeking so much acceptance from others, there is something that really is wonderful that comes when you start knowing and accepting yourself," she said.
The new collection is available now exclusively at Myer stores nationally and online in Australia in sizes 8A – 20F.