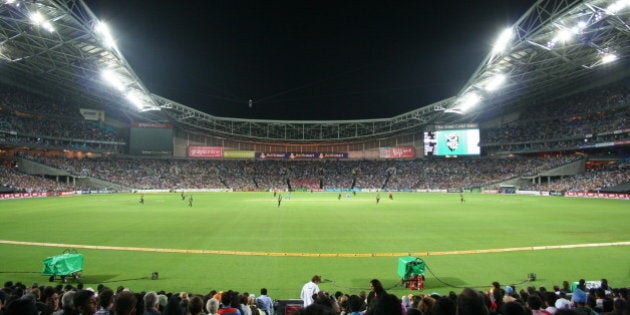 Footy fans better get ready to whip out their credit cards if they want to get to the NRL Grand Final this weekend -- particularly if they live in Northern Queensland.
Flight prices to Sydney from both Townsville and Cairns have skyrocketed ahead of the Sunday evening game between the North Queensland Cowboys and the Brisbane Broncos, to be held at Sydney's ANZ Stadium.
Th situation is so dire, the North Queensland Cowboys will charter two commercial flights in order to get fans to the game. The cost is $$1,190 per person (return) and includes a ticket to the final.
Those who can't afford the flights -- which are in excess of $1300 return per passenger -- may have to resort to getting behind the wheel and making the 20 hour drive (according to Google Maps -- we assume this is without toilet breaks). Ordinarily the cost of a return flight over the weekend is akin to $400.
Brisbane fans can also expect to fork out, with direct return flights costing around $620 according to Skyscanner. Similar flights the following weekend are closer to the $130 mark.
Flights aside, the weekend is set to be an expensive one, with Expedia listing the average hotel price for just the night of October 4 to be $449. The site lists the average price for a three star hotel to be $287, a four star at $364 and a 5 star at $648.
To get to your hotel (assuming it's in the CBD) in a taxi will set you back anywhere between $23.90 to $33.46 according to Taxi Fare Calculator with a return fare of $25.79 to $36.1.
So how much can a North Queenslander expect to pay for a Grand Final weekend?
Flights: $1300 minimum (Northern Queensland), $600 minimum (Brisbane)
Accommodation: AU$435 (average)
GF ticket: $96.85 minimum
Meat pie and soft drink deal: $5
TOTAL: $1,797.63 for Northern Queenslanders and $1,194.48 for Brisbanites. And no, that's not including a beer.
But the expenses don't just apply to NRL fans. Those in Western Australia keen to see the West Coast Eagles take on the Hawthorn Hawks on Saturday night will also have to face hefty airfares, with many looking to via foreign countries as a way of keeping the costs down.
A direct return flight from Perth to Melbourne over the weekend are over the $1100 mark (many of the "cheaper" flights -- which are still around $900 -- involve lay-overs in other cities for up to 30 hours). The same flights the following weekend are around $430.
Melbourne accommodation prices are similar to Sydney's, with Expedia listing the average hotel price for Saturday, October 3rd to be AU$462. The site lists the average for a three star hotel to be $324, a 4 star at $469 and a 5 star at $660.
Taxi Fare Calculator estimates a taxi from Tullamarine Airport to Melbourne CBD to be between $47.58 to $66.62 and, returning on the Sunday, around $50.25 to $70.35
AFL Grand Final Cost Breakdown:
GF ticket: $150 minimum (restricted view or standing room)
Beer: $7.30 (Carlton Draught 425ml)
So, pretty much we could all be buying return tickets to Europe for the price it costs us to attend a national footy game. Here's hoping the beer is cold, the games are close and your team -- whoever it may be -- is triumphant.