Janie Barrett / Fairfax Media
Jestina Campbell and fiancee Lance "Buddy" Franklin are reportedly seeking legal advice in regard to a piece written about them by The Daily Telegraph reporter Annette Sharp.
The column -- which advised Franklin and Campbell to "postpone indefinitely" their wedding due to Franklin's mental health issues -- has garnered significant media attention since its publication on Saturday, and has also prompted Campbell to make a public statement on her Facebook page.
The Press Council has confirmed that it has received at least one complaint, and that the usual process for dealing with such complaints has started.
Sharp also wrote that Campbell should put off her nuptials for now, "because Jesinta's appeal and allure will halve when she marries, as half the consumer market – men – will rapidly lose interest in their dream girl who is no longer single".
The Australian has reported the couple is planning to sue The Daily Telegraph, with Campbell's agent Sharon Finnigan decrying Sharp's piece as "disgusting" and "awful."
The Huffington Post Australia has reached out to Finnigan for comment.
Reaction to Sharp's piece has, unsurprisingly, been unfavourable, with some readers questioning how the article was published in the first place.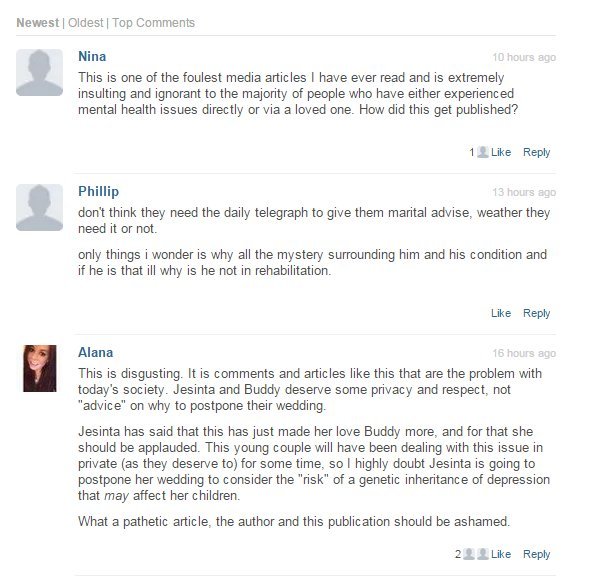 Comments left below the article by readers.
Others have taken to social media to voice their disapproval or to tweet messages of support.
I hope when I'm in a difficult place in life, I have a total stranger as kind as Annette Sharp to step in and insinuate things about me

— Ben Pobjie (@benpobjie) September 26, 2015
Thank you @JesintaCampbell for these wonderful words, they WILL make a difference pic.twitter.com/nMMLfFmivB#mentalas

— Black Dog Institute (@blackdoginst) September 27, 2015
Great message @JesintaCampbell: with 1 in 5 Aussies experiencing a #mentalillness in 12m period, let's #kickstigmahttps://t.co/YiHPLFZmHE

— Mindframe (@MindframeMedia) September 27, 2015
@JennaGuillaume@JesintaCampbell@InSharpRelief try not buy into social ignorance- the media should #notcommentonwhattheydontunderstand

— Dr Louise Freeman (@lmathewsfreeman) September 27, 2015
On Twitter, Sharp has defended the piece as well as accusing other media outlets misquoting or misrepresenting her point of view.
I wish Jesinta & Buddy all the very best for the future -hence the column. I wrote it because I'm concerned 4 them. https://t.co/cHi7g0JYVG

— Annette Sharp (@InSharpRelief) September 26, 2015
A lot of people leaping on the outrage bus about what amounts to plain good sense as far as I can see ... #whippedalongbymyjeersquad#higuys

— Annette Sharp (@InSharpRelief) September 26, 2015
No @Mamamia "team" - I don't says they shouldn't get married at all. You have misread and misquoted me. Postpone

— Annette Sharp (@InSharpRelief) September 27, 2015
You are misquoting me Tim @mumbrella - I thought you a better journo than that. I never said they shouldn't marry

— Annette Sharp (@InSharpRelief) September 27, 2015
The Huffington Post Australia has chosen not to link to Sharp's piece.