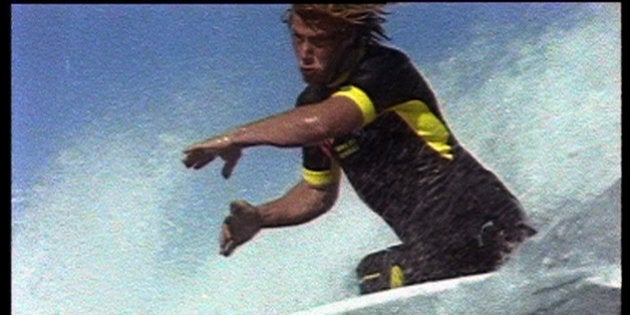 It is 25 years since a young Hawaiian almost single-handedly redefined the idea of Australian surfing films, infusing scenes of iconic waveriders and secret beaches with a previously untapped sense of indigenous spirituality.
Jack McCoy, with his 1990 film Bunyip Dreaming for surf brand Billabong, ignited a wanderlust in the surfing community. Following surfers Mark Occhilupo, Munga Barry, Luke Egan and Ronnie Burns around the country on an envious surf safari, McCoy's groundbreaking filming technique and style was accompanied and influenced by references to Aboriginal mythology, folklore and tradition.
"It was the first film I did for Billabong, and the idea was to create a film that acknowledged Billabong got their name from Aborigines," McCoy told The Huffington Post Australia from his home near Avalon, on Sydney's northern beaches.
"In 1989 and 1990, there was the big 'Sorry' campaign for acknowledging indigenous culture. I thought it would be a good idea to look at that. It was about respecting Aboriginal culture, and apologising to the native owners of the land. It was a very topical subject; my wife is part Aboriginal, we'd just had a young son. It was an opportunity to follow through."
The "dreaming" refers to the Aboriginal view of spirituality and nature. Bunyip Dreaming is six sequences of surfing and travelling, shot on location on the north and south coasts of Western Australia, in NSW, Queensland and South Australia. McCoy said each sequence is marked with a small poem, each with an ecological message: "One gum stands where many once stood"; "open your ears and open your eyes, be sure of where your Dreaming lies"; "respect the Bunyip country or it's gonna disappear."
The film is set to a soundtrack by Yothu Yindi, INXS and Concrete Blonde among others.
"It was all done to music, with no talking or narrative, but with clever editing and video effects not used in surfing films before. It's sort of like an art piece, with music used as a form of storytelling," McCoy said.
"There was a lot of creative editing, a lot of cool effects. I put water in the skies and mixed images together. For the time, it was new and different. The movie was very soulful, and even though it wasn't the best surfing at the time, it was great surfing with great music and production."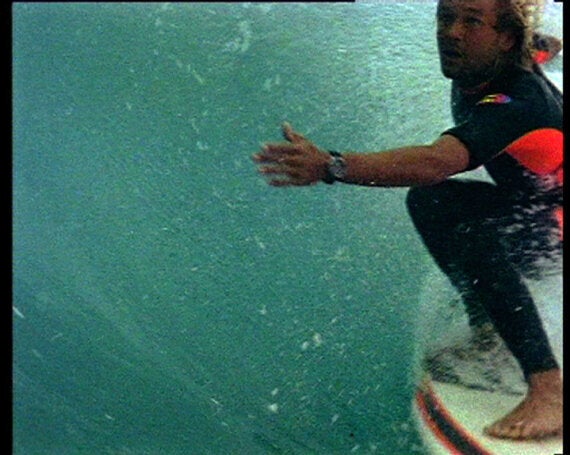 Munga Barry in Bunyip Dreaming (Jack McCoy/Supplied)
Bunyip Dreaming's 25th anniversary will be marked with a special showing in Wollongong on Friday night, as part of the Yours & Owls music festival. McCoy will introduce the film himself, with the festival also featuring the likes of Ash Grunwald, Cloud Control, the Delta Riggs and The Preatures. For a man whose work inspired new waves of surfers and film-makers to hit the water, he is surprisingly humble about the milestone and recognition.
"People come up and shake my hand and say the film changed their life. Why that happened, I don't know. We made a movie that was pure and soulful," he said.
"I tell people I've had a really good life. I've made a fair living out of being a surf film maker. I'm not rich by any means, but the biggest reward and payday is when people say it inspired them in some way. You can't get better than that as an artist."
"Someone once told me, if you get one person inspired by your art, that's a win for you."