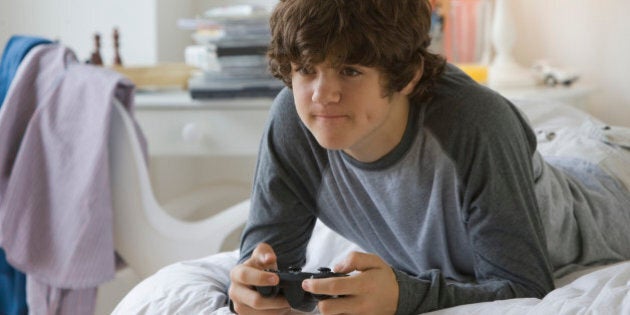 As many as eight out of 10 Australian kids are failing to meet the national guidelines of at least an hour's exercise a day, instead choosing to spend their time and health on TV and electronic gadgets, the Heart Foundation has said.
The Heart Foundation is marking World Heart Day with analysis showing children aged 5 to 17 years are spending at least 1 hour and 20 minutes watching TV and DVDs and 20 minutes playing electronic games each day.
The analysis, based on the latest Australian Health Survey findings, shows eight out of ten Australian children fail to meet minimum national guidelines of at least 60 minutes physical activity per day, National Heart Foundation CEO Mary Barry said.
"When we consider the sheer amount of time kids spend seated watching TV, playing computer games or staring at various other electronic gadgets, it's little wonder they're so physically inactive," Barry said.
"In turn, this sets our children up to live their lives under the shadow of chronic health conditions like heart disease, obesity and type-2 diabetes.
"We owe it to the health of present and future generations that we take steps now to remedy this epidemic of inactivity among young Australians."
The data showed boys were spending much more time playing electronic games than girls, at 33 minutes a day compared to eight minutes.
Obese/overweight children are spending more time watching TV and DVDs or playing electronic games, than children of normal weight range at 122 minutes per day compared to 98 minutes.
The analysis also found children are spending four times more on the computer and internet for non-school rather than homework purposes at 25 minutes per day compared to 6 minutes.
But for kids who meet the minimum national physical activity guidelines, the amount of time they spend watching TV/DVDs or use the computer/internet for non-school purposes was almost halved to 91 minutes per day compared to 161 minutes.
Barry said children have an innate, in-built need to be physically active, and as a nation we need to do more to encourage and facilitate active play time, when and where possible.
"Whether this involves kicking a footy, climbing a tree or playing tag in a local park, taking the dog for a regular walk or hitting a cricket ball over the neighbour's fence, these are all healthy forms of physical activity that we should be encouraged," she said.
"We need to do much more to encourage our children to turn off the TV, put down their phones and tablets and engage in healthy, vigorous physical activity."
Barry said practical, achievable initiatives to encourage Australians to become more active are the focus of the Heart Foundation's 'Move More, Sit Less' campaign.
"This includes the development of a comprehensive, funded National Physical Activity Action Plan to encourage Australians to move more and sit less."