CANBERRA -- New Treasurer Scott Morrison has again proven a polished political performer, spotting an overhead television boom mic at a Parliament House picture opportunity.
His keen eye was apparent at a mini-Cabinet gathering which included Prime Minister Malcolm Turnbull, Small Business Minister Kelly O'Dwyer and Cabinet Secretary Arthur Sinodinos.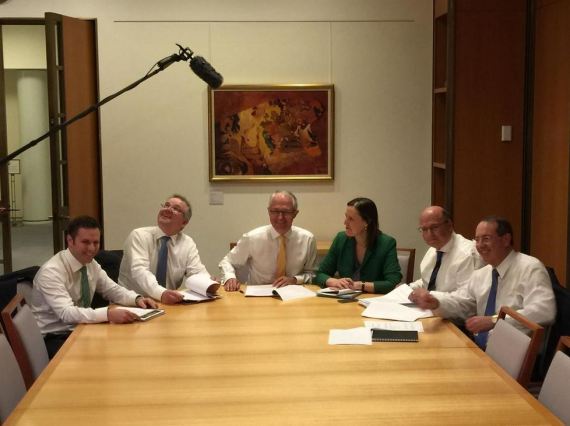 ScoMo CAN spot a boom mic.
Morrison was just as eagle-eyed three weeks ago, when Immigration Minister Peter Dutton was embarrassingly caught by a boom mic laughing over rising sea levels and tardiness in Indigenous communities.
Dutton noted the meeting that he, Morrison and then Prime Minister Tony Abbott were attending was running to "Cape York time", and joked to Abbott, who'd just returned from a Pacific Island Leaders Forum, that "time doesn't mean anything when you're about to have water lapping at your door".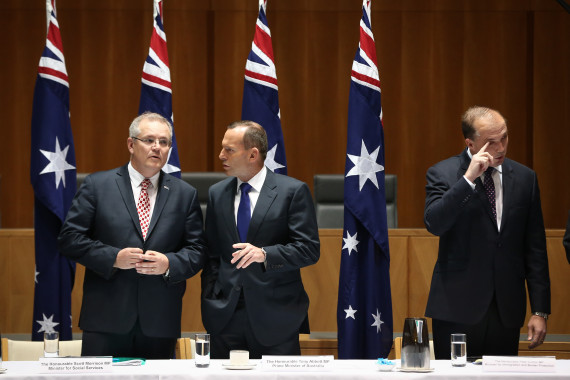 Oops.
The jibe got a laugh from Abbott, but Morrison managed to spare his colleagues further embarrassment by drawing attention to the overhead microphone recording every second.
There was no danger of a diplomatic blunder today, as all prime ministerial and ministerial utterings in the Cabinet office being carefully worded.