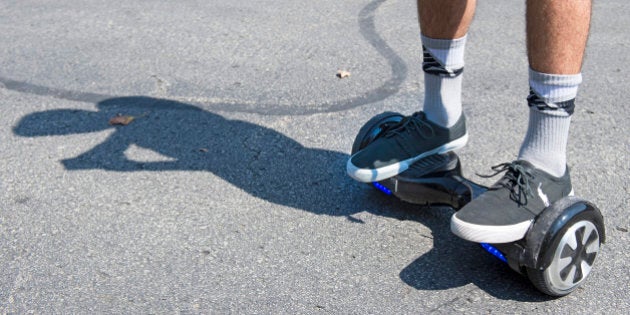 Some call them hover boards, some Phunkee Ducks, some Alpha Decks, some Swag Boards and some Hover Decks. They look like a sideways skateboard, they get lumped under the banner of "self balancing scooters" and they are taking over the world, if they haven't already taken over your social media feeds.
The likes of Justin Bieber, Chris Brown, Kendall Jenner, Nicki Minaj, John Legend, Cara Delevingne and Nick Jonas have been spotted playing on the boards. Rapper Wiz Khalifa was arrested for riding one through Los Angeles Airport in August. They've become the hottest mode of transport since wheelie-shoes.
Countless Australian companies have recently sprung up to meet demand, importing boards from overseas to sell domestically.
Prices range from a few hundred dollars to over $1400 in some cases, depending on the model and specifications.
Some Australian-based retailers claim their devices can reach speeds of 20km/h with a motor power of 700 watts. After several hours charging, the devices are said to have a range of 20km.
But for all the celebrities jumping on the bandwagon, there has been an inevitable backlash. Australian internet meme aggregator Brown Cardigan has helped kickstart the #REMing hashtag on Instagram, where slow-motion footage of people riding the self-balancing scooters is -- inexplicably -- set to the tune of 'Everybody Hurts' by REM.
The technology has also been widely lampooned on social media, and "hoverboard fail" returns nearly 500,000 results on Google.
So, what's next for the boards? No doubt you'll be seeing them everywhere after kids nationwide excitedly unbox the gadgets on Christmas morning.