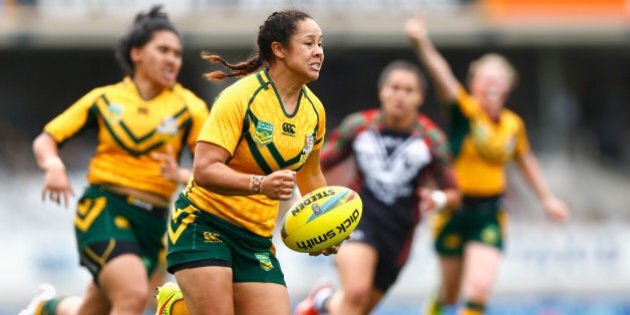 It is grand final week for the National Rugby League (NRL) and to kick off the week, the annual gala awards night -- the Dally Ms – is held to recognise the outstanding players of the season, culminating in the best player of the year award.
The winner of the inaugural Female Player of the Year award is Jillaroo five-eighth Jenni-Sue Hoepper.
Hoepper says she is proud to be a part of it, on the back of a year that has been a great one for women's sport.
"I honestly didn't expect this: to be a part of this unique event and actually be the first female to get this award. I can't stop smiling. I definitely appreciate those who have really pushed to get this happening," she told the Huffington Post.
The 21 year old currently works as an NRL Game Development Officer in Townsville and has been playing rugby league since she was young. She started in a mixed competition at the age of ten, but past the age of twelve there was no opportunity for girls to play back then, so she didn't start again until she was 17 and could play in the local women's competition.
By 19 years of age she was representing Australia in her debut for the national team, the Jillaroos, in the 2013 Rugby league World Cup and is working hard with her team mates towards their 2017 defence of the title.
"I'm only 21, so I feel like I've got a lot more to offer to the game," she said.
While she's been blown away by all the media attention after winning the award on Monday, she says she feels the exposure for the game can only be a good thing.
"From the World Cup we had a bit of media exposure, more than they ever did before, and that helped push … the game and it's just growing and getting bigger.
"Just, with all the media coverage of last night, I still can't believe how much media … I'm just happy to be a part of it and definitely will do whatever I can to help grow the game," she said.
There's no doubt she still has many milestones to achieve and that she'll do so with the full support of her team mates.