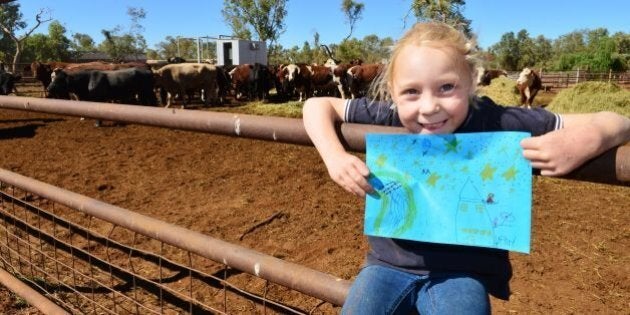 Quotes about imagination, making the sky your limit and shooting for the stars are a dime a dozen. It's not often, however, that they literally ring true –- that imagination literally takes you to the stars.
Bailey Brooks is six years old. She lives at Lilla Creek in the Northern Territory, 430 kilometres from Alice Springs -- "as close to the dead centre of Australia as you can get", her mum Tanya said. Shortly after 6am AEST today, a picture she drew was attached to a rocket on a launchpad in French Guiana, and shot into space on a satellite.
Dubbed 'Sky Muster', the satellite is the first for Australia's National Broadband Network.
The rocket blasted 36,000 kilometres into space from the Guiana Space Station, on the east coast of South America, and settled into an orbit over Australia to deliver internet coverage to some of the country's most isolated communities.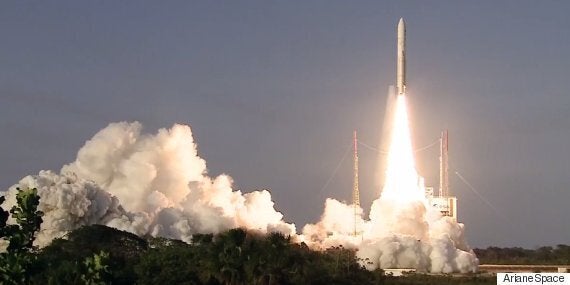 A rocket carrying the Sky Muster satellite launched in Guiana today.
The satellite will play a critical role in bringing fast broadband access to around 400,000 Australian homes and businesses and is one of the most advanced of its kind, NBN said.
"The ability to video-conference friends and family, study courses online and visit doctors from your lounge room will all be possible in areas which have traditionally struggled to access basic internet services like online banking and shopping," NBN CEO Bill Morrow said in a statement.
"Many homes and businesses in regional and rural Australia still rely on dial-up level speeds and have little or no access to a commercial broadband service – this satellite will help to close the divide and ensure no-one gets left behind."
An NBN spokesman told The Huffington Post the satellites will each project 101 torch-like spot beams to cover the whole of Australia and five offshore locations: Christmas, Cocos, Lord Howe, Norfolk and Macquarie Islands.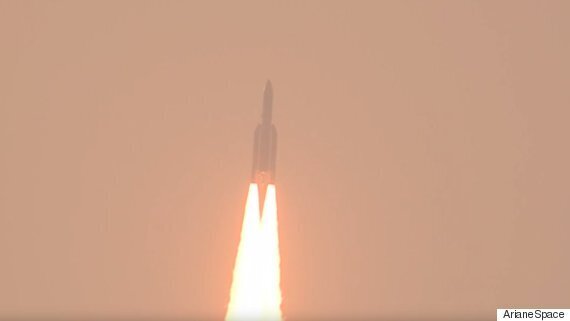 The rocket soared through the skies before dropping its thrusters.
It's a glimpse of the near future for remote school children like Bailey.
Bailey lives on Lilla Creek Station, a cattle property near the Northern Territory-South Australia border. She is a student of the School of the Air, the correspondence education service for children in remote or isolated communities.
Students have regular "in-school" weeks where they get a chance to meet their teachers and classmates in-person. It was during one of these get-togethers, Tanya told HuffPost Australia, where Bailey's class entered a competition to contribute a design for the NBN satellite and also name it.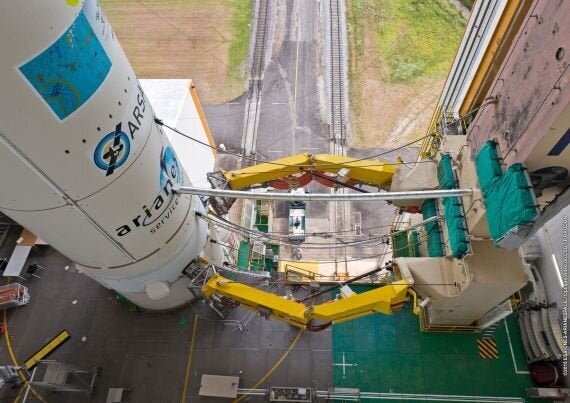 Sky Muster is Australia's first NBN satellite.
Bailey's picture, of her looking up at the stars from her house, was named the winner. She and her classmates dubbed the satellite 'Sky Muster,' because they thought the NBN would "round up" and bring Australians together.
"The picture was me in central Australia, looking up at the stars at my home," Bailey said.
"I look at the stars a lot. I'm very excited, yes very excited, about it."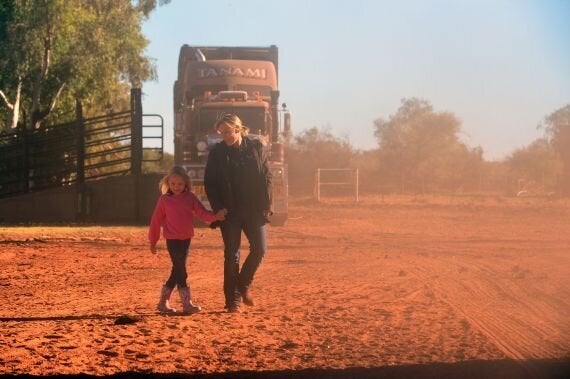 Bailey at her home in the 'dead centre of Australia'.
To cap things off, the satellite launched on Bailey's seventh birthday.
"This is a birthday she'll remember for a while," Tanya said.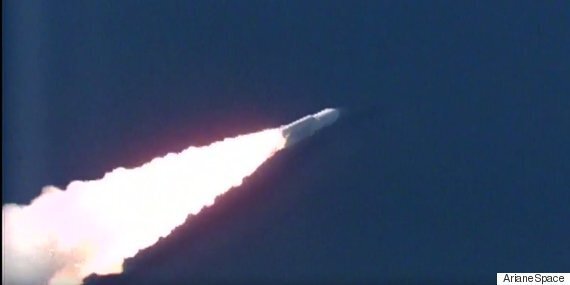 The rocket travelled at speeds of more than 1km per second.
Over the coming months the satellite will undergo final technical testing ahead of its commercial launch scheduled for mid-2016.
Ten ground stations have been built around the nation to send and receive information from the satellite. The launch of a second NBN satellite is being planned for later in the year.