A senior police source has told the ABC that Farad attended a mosque shortly before the shooting.
Police Commissioner Andrew Scipione this morning confirmed the boy was of Iraqi and Kurdish background born in Iran.
"We're a long way from understanding his exact motivations," Scipione said.
"We haven't ruled anything out, there is nothing to suggest he was doing anything but acting alone."
Scipione said Taskforce Fellows had been set up to investigate the incident, flagging a future coronial inquest.
"This particular event isn't 24 hours old yet, we're going to do this the right way," Scipione said.
The shooting happened about 4.30pm on Friday when a civilian finance worker was shot at close range out the front of the State Crime Command in Parramatta. Special constables returned fire and killed the gunman.
Scipione also praised the staff member who was killed, naming him Curtis Cheng, a 17-year veteran of NSW police finance department.
"He was a much-loved man, he's been with us a long time and I don't think I've ever heard a bad word about him," Scipione said.
Premier Mike Baird called for unity in the aftermath of the tragedy.
"We've got to be better than those who want to disrupt our lives," Baird said.
"This tragedy will echo around the world, as people try and understand how someone so young could commit such a hideous crime."
Hours after the incident Scipione said it was an appalling act of brutality.
"In viewing video footage, I have witnessed enormous bravery by those special constables who responded," Scipione said.
"They were brave and they were professional."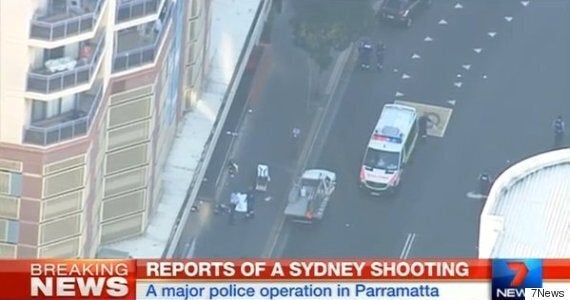 The scene in front of the NSW Police Headquarters. Picture: Channel Seven
Parramatta city, meanwhile, is putting the incident behind them.
Parramatta Mosque chairman Neil El-Kadomi told The Huffington Post Australia it was business as usual for weekend activities.
"The mosque had nothing to do with this and we don't know who he is -- the mosque can accommodate people of any different cultural background." El-Kadomi said.
All Saints Anglican Church North Parramatta Canon Colin Aiken said services were happening as usual at the church also.
Parramatta Leagues security worker Mario Ivusic said there were no changes to the long weekend.
"We've got the grand final on so we predict it's going to be extremely busy," Ivusic said.
At Westfield Parramatta an employee confirmed security was operating as usual in the centre while at Riverside Theatres, a children's concert is set to go ahead as planned.
Three streets remain cordoned off surrounding the police headquarters, home to the state's homicide, drug, Middle Eastern organised crime and gangs squad.