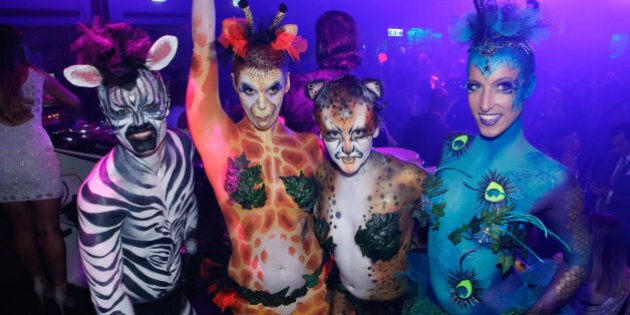 Melbourne is mad for AFL for 51 weeks of the year. On the 52nd week -- the days directly before the grand final -- the city's love for aerial ping-pong ratchets up to whole other levels of crazy.
Between grand final parades, captain's runs, media conferences, the Brownlow Medal and the hundred other official functions of grand final week, there is one night where players, VIPs, officials and sponsors get to truly let their hair down, relax and enjoy themselves. The now traditional Virgin Australia AFL Grand Final Party, held in the middle of grand final week, is a rare opportunity for the AFL community to kick back and enjoy the spectacle from the eye of a very crazy storm -- and again in 2015, in its third year, the party did not disappoint.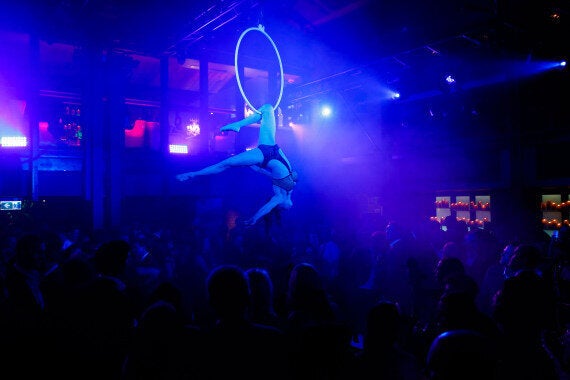 Aerialists entertained the crowd (Pic: Lucas Dawson)
Black drapery and flaming torches met guests at the waterside Alumbra complex at Melbourne's Docklands precinct. The low-slung renovated warehouses overlooking Victoria Harbour, inconspicious from the outside, became a jungle wonderland just inside the entryway as we were ushered down a red carpet and into a wide open space bathed in green light.
Body painted performers played the part of jungle creatures - a zebra hid behind greenery, a giraffe winked as we entered, beauties daubed and bewhiskered as cheetahs and more stretched on pedestals in every corner. Signature cocktails topped by flaming passion fruit husks whirled around the room.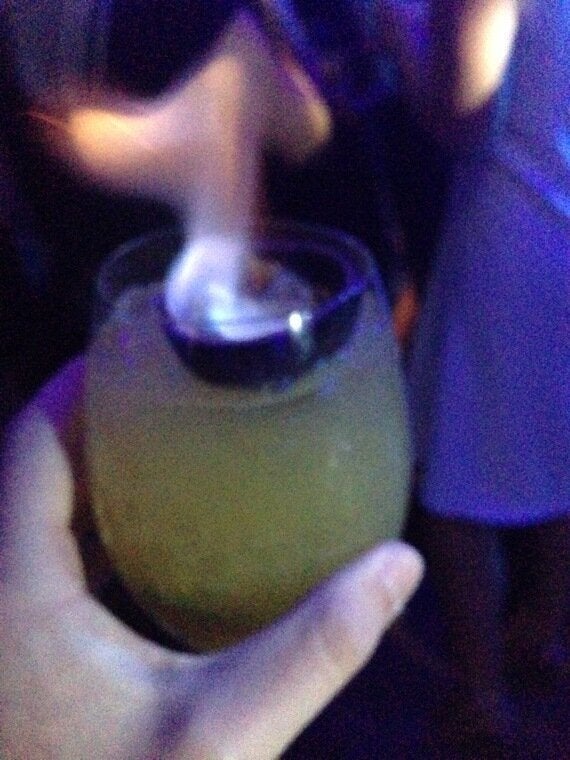 Alcohol and flames, a winning combination (Huffington Post/Josh Butler)
Fire twirlers and aerial silk artists popped up through the evening, often literally popping up in the middle of a crowd. The three spaces -- a bar space where drinks flowed freely, a beautiful back deck with artificial grass underfoot, and an indoor nightclub-esque space complete with DJ and slowly melting ice sculpture -- were packed to capacity early, yet aerialists managed to materialise in the crowd and ascend high into the rafters.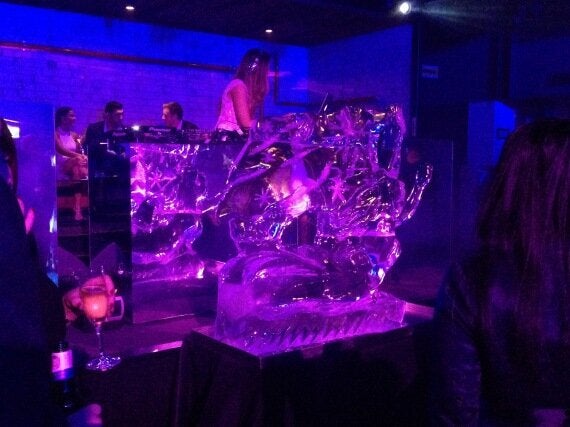 When the DJ's beats so hot, the ice starts melting (Huffington Post/Josh Butler)
It was while my eyes were cast skyward watching an performer in a barely-there leotard thing sping around on a hula hoop that I bumped into Rob Mills; yes, he of former Australian Idol fame and... oh let's be honest, he's famous for hooking up with Paris Hilton at a time when any tenuous link to Paris Hilton was a one-way ticket to fame, infamy or at least some level of notoriety. Case in point:
After bumping into Mills, it meant I'd technically second-hand hooked-up with Paris Hilton. Besides telling off an acclaimed Australian actor (who I won't name here) for stealing my girlfriend's seat during intermission of a theatre premiere -- his friend got mad after being stuck behind a lady with big hair and tried to pull a swift one on us -- this was undoubtedly the greatest celebrity encounter of my life.
On the topic of big name guests, of course the AFL community was well represented. Legend of the game Gary Ablett Jr was the first one I recognised -- as a blue blooded New South Welsh-man, I'm not ashamed to say I know little about the aerial ping pong game -- but it didn't take Sherlock Holmesian powers of deduction to surmise the tall, muscled, handsome guys in good suits with gorgeous girls on their arms were star players. The likes of Campbell Brown, Kane Cornes, Patrick Dangerfield and Jake Carlisle swanned around the room catching up with friends and fans, while musician Megan Washington arrived later in the evening.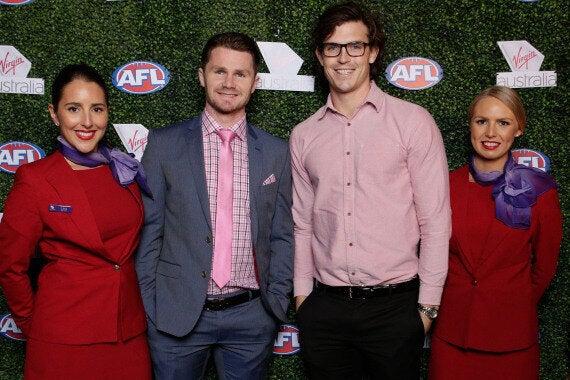 Patrick Dangerfield and Phil Davis with Virgin stewardesses (Pic: Lucas Dawson)
I'm also pretty sure I spied the guy who hosts the Channel Ten morning show's advertorial segment. You know, the one always trying to sell you step ladders or fancy floor mops or life insurance packages. He seemed to be having a good time.
Appetisers and hors d'oeuvres sped across the room in the arms of an army of servers. A paper cone of delicious fried chicken was my pick of the bunch, but after grabbing my first, for the life of me I wasn't fast enough to grab another. Space was at a premium in the sardine can interior and having perched myself in the fresh air on the deck, the good hot food had become all but extinct by the time it made it within my grabbing distance. Instead, your roving correspondent made do with about thirty of these little cheese and spinach pastry squares. Infinitely tasty and vital; in the jungle, it's survival of the fittest. You make do with what you have; at that moment, I had little cheese and spinach pastry squares.
The party raged on well past the point where the Huffington Post Australia called it a night and retreated back to the Crown Metropol hotel, with the AFL community relishing the chance for a night of their own, away from the spotlights and cameras and questions. It was a night to relax and unwind and enjoy -- because come Saturday's grand final day, things will be anything but relaxing.