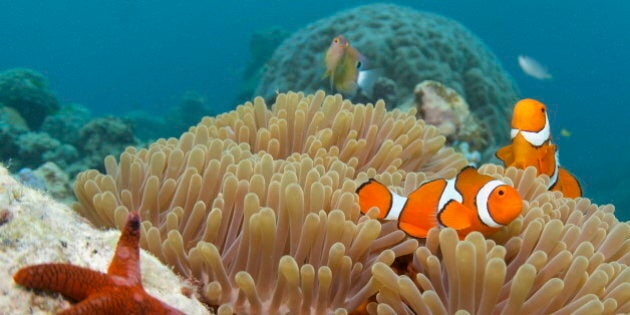 October is the start of turtle season in Queensland, so to celebrate and inspire a trip to the sunshine state, let's test your knowledge on The Great Barrier Reef.
1. The Great Barrier Reef is approximately 350,000 square-kilometres in size and stretches 2300 kilometres along the coastline of Queensland -- that's the size of about 70 million football fields. Or the size of Japan.
3. The reef is a conglomerate of 2900 coral reefs and 1050 islands and cays. Basically, Nemo has one very spacious home.
4. More than 400 (or one-third) of the world's coral species can be found in the Great Barrier Reef World Heritage Area.
5. At 8000 years old, the thin layer of living coral that makes up the Great Barrier Reef is a spring chicken compared to the 500,000-year old dead coral and algae layers that lie beneath.
6. The reef is a bustling underwater metropolis -- home to more than 1500 species of fish, 215 species of birds, more than 3000 species of molluscs, six of the world's seven species of marine turtles, 30 species of whales and dolphins and one of the world's most important dugong populations.
7. A reef tax of $6 per day is paid by any visitor to the reef over the age of four, with money going to the Great Barrier Reef Marine Park Authority for their ongoing efforts to protect the delicate ecosystem.
8. While the average depth of the inshore waters of the Great Barrier Reef hover around 35 metres, the drop-off from the Continental Shelf slopes down to depths of more than 2000 metres.
9. Hard coral grows up to 1.5cm per year and is the backbone of the reef, growing and constantly adapting to the environment around it.
10. Come November, the coral gets very busy during spawning season -- also known as "sex on the reef". Timing of the mass release is linked to water temperature and phases of the moon, not 50 Shades of Grey or any tunes by Barry White.
11. Apart from climate change and human impact, the reef's worst natural predator is the crown-of-thorns starfish. The unpopular kid of the playground is notorious for stripping reefs of nearly all living coral. Fortunately new corals can generally re-grow after an outbreak.
12. The Great Barrier Reef is recognised as one of the seven natural wonders of the world. It was named a UNESCO World Heritage site in 1981.
13. In 2012 Google launched the very first underwater Street View on the Great Barrier Reef. The Underwater Earth project uses data and imagery from the ground-breaking Catlin Seaview Survey project -- a series of expeditions aiming to explore and survey the health of coral reefs worldwide -- so you can spy on the antics of the reef's inhabitants. It's no Jersey Shore, but interesting nonetheless.