Two people have been shot dead outside the police headquarters in Sydney's Parramatta on Friday afternoon.
"It appears an officer has discharged his weapon, responding to a report that a person had been shot," the statement said.
"Two people have died at the scene. A crime scene has been established."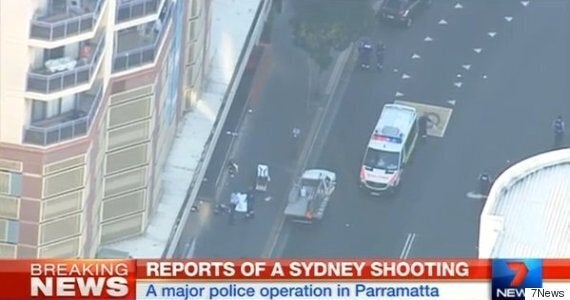 The scene in front of the NSW Police Headquarters. Picture: Channel Seven
NSW Police Commissioner Andrew Scipione confirmed that the gunman acted alone and killed a civilian employee of the police force, reported to be an IT worker, with a single shot.
Special constables then exchanged gunfire and killed the gunman.
"An employee of the NSW Police has been callously murdered," Scipione told reporters on Friday night.
"This was a brutal crime, a terrible crime.
"The police officers exhibited enormous bravery."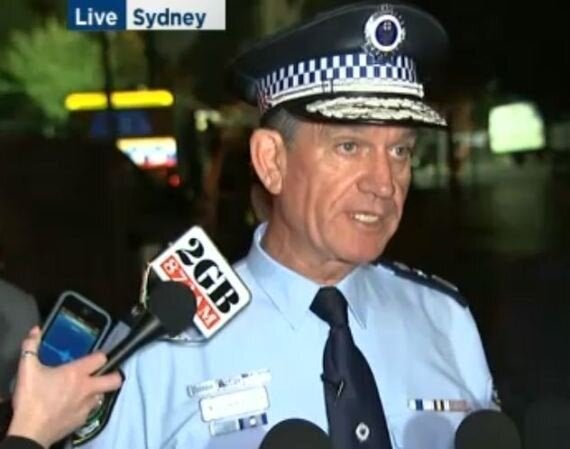 NSW Police Commissioner Andrew Scipione.
Aerial footage showed two bodies under white sheets, while police confirmed an incident team would investigate.
Police released no further details about the gunman or the shooting.
"There is no threat that we're dealing that at this stage we haven't resolved here," Scipione added.
"We have nothing to link this to a terrorism activity, but we can't rule out if that was the case."
The incident took place near Charles and Hassall streets at Parramatta at 4.35pm on Friday.
Sky News reported one of the men shot was a police IT worker and a man had been seen in flowing black robes moments earlier.
A worker at the nearby Good Start Early Learning said parents were arriving to pick up their kids and police were also present.
Fairfax Media reported a police source said there was increased "chatter" in the last week relating to a possible attack on the Parramatta headquarters and that every officer had been ordered to wear their guns at all times.
Seven News reported police had received two emails in the last month that "raised concerns".
A Police Media spokeswoman, however, told The Huffington Post Australia they had "no knowledge of any emails sent to police prior to the incident".
A 2km exclusion zone was set up surrounding the police headquarters, which is home to the State Crime Command, which includes the homicide, drug, Middle Eastern organised crime and gangs squads.
Facebook user Edwin Almeida shared a video at the scene immediately after the incident.
In the video, a female voice is heard saying: "...is he dead?" and a male voice replies: "Well he is now".
In the post, Almeida said there were four or five shots fired by man outside the headquarters.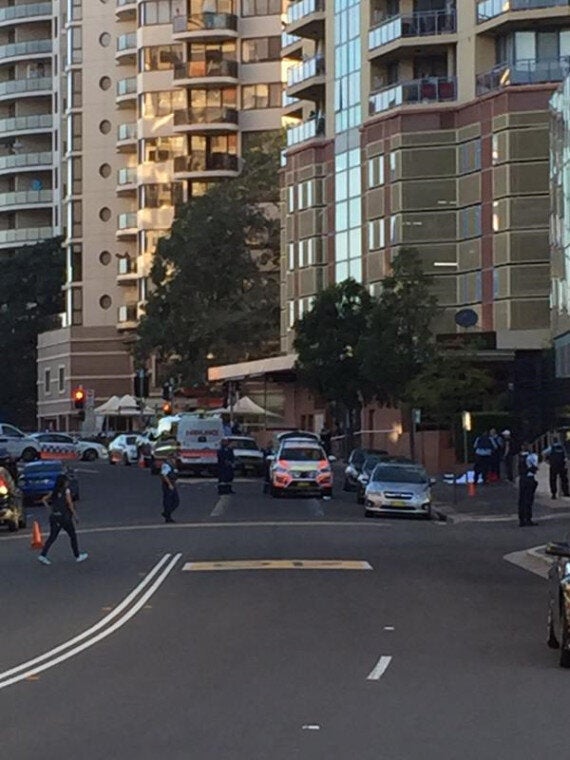 The scene after the shooting on Friday afternoon. Picture: Fairfax Media
"Man shot down by guards and detectives," Almeida said in the post.
"Man there was blood everywhere ... after the security and detectives fired on him.
"The seriousness of what has occurred: school next door, close to 9 cafes within a block. glad it's school holidays."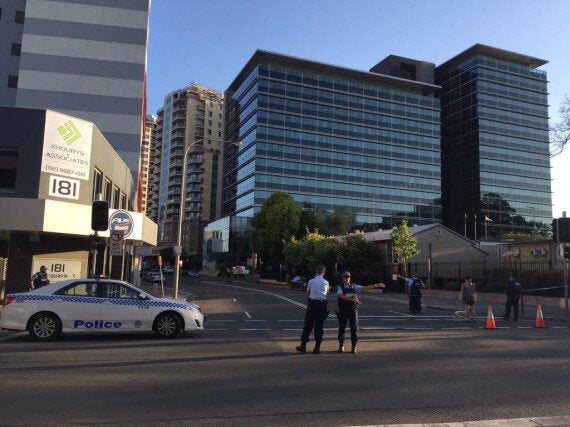 The scene shortly after the shooting on Friday afternoon. Picture: Fairfax Media