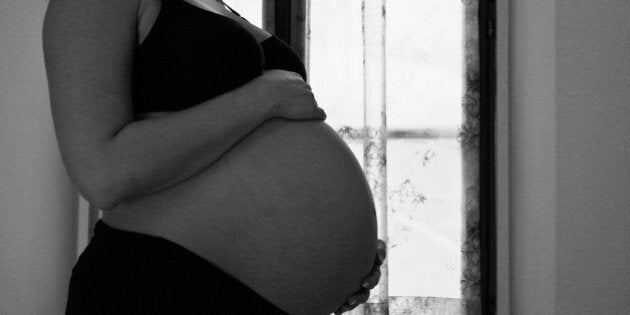 Medical experts warn that depression during pregnancy can be "a killer" and have urged women to continue taking anti-depressant medication, allaying concerns it can be harmful to their baby.
Dr Vijay Roach, chairman of Gidget Foundation and obstetrician told The Huffington Post Australia that it can be in fact more harmful to both the mother and baby if the depression and anxiety goes untreated.
"Perinatal depression and anxiety is not just about a woman feeling miserable or having 'baby blues', it actually can be a killer," he said.
Roach said once a woman is diagnosed, the first line of therapy is talking therapies followed by antidepressant medication, such as SSRIs.
"SSRIs are the largest group of medication we use and they are extremely safe."
"SSRIs are safe when you are trying to conceive, they are safe during pregnancy and during breastfeeding," said Roach.
One in six Australian women suffer from perinatal anxiety and depression -- a condition that develops during pregnancy and up to one year after birth however, fears about the effects antidepressants have on a developing fetus prevent women from receiving the correct treatment.
There is also much stigma surrounding perinatal depression and the big problem with it is that it goes largely unrecognised.
"What's the job of the mother? She's supposed to be happy and cheerful about the pregnancy, and if she's miserable, then she is anxious that she'll be judged as a bad mother -- so therefore she masks it," said Roach.
"Oftentimes though, the depression and anxiety isn't even recognised by the mother at all -- she just thinks this is what motherhood is like -- miserable," he said.
Falling pregnant is meant to be the most exciting time in a woman's life -- she should be overjoyed, happy and thrilled about her impending motherhood -- and if she's not well, then, she's perceived as a "bad" mother.
Perinatal depression doesn't discriminate, either, so you don't need to have a family history to get it and there's a whole host of reasons why it occurs and ways it can play out.
"It is said that when a woman has her first baby, it is the single greatest life event -- so obviously, there is a huge amount of adjustment taking place," said Roach, who has been personally affected by perinatal depression after his wife, Catherine, suffered anxiety and depression during her first and second pregnancy, as well as a post-traumatic stress disorder following a traumatic birth where she temporarily lost her sight.
Perinatal depression comes in many different forms -- the woman may have experienced depression or anxiety in the past, putting her more at risk of it occurring again -- or she could be suffering from a post-traumatic stress disorder due to a particularly difficult pregnancy or labour.
"Routine screening for women at risk of or experiencing perinatal mental health conditions is provided by a range of health care professionals including midwives, child and maternal health nurses, and GPs around the country – using the Edinburgh Postnatal Depression Scale," said Dr Sarah Squire, Families Program Leader at beyondblue.
"It consists of psychosocial assessment, including depression screening, for every perinatal woman in Australia at least once in pregnancy and at least once in the first year postpartum," she said.
"We want women to be aware that we can identify it and we can help to get things better," said Roach.
If you need help in a crisis, call Lifeline on 13 11 14. For further information about depression contact beyondBlue on 1300224636 or talk to your GP, local health professional or someone you trust.