momofuku milk bar
As founder of the dessert program at New York's infamous Momofuku, Christina Tosi knows what she's talking about when it comes to sweet treats.
The award-winning pastry chef (and owner and founder of New York's Momofuku Milk Bar) is currently in Sydney to promote a parternship with The Singleton Whisky, and took the time to chat to The Huffington Post Australia about the latest in the dessert scene.
"We are seeing a lot of whimsical creations in the bakery, which is really exciting," Tosi said. "In Sydney I have been checking out a lot of experimenting with donuts, such as donuts on top of a milkshake, which is pretty amazing. Anything using a donut as a vehicle for creation is really really cool."
Tosi said, in New York, there has also been a lot of creation with the bagel as well as layered cakes and ice cream.
"I think there's some really cool stuff happening with ice cream -- soft serve, gelato, milkshakes, ice cream sandwiches -- we're seeing a lot of that," Tosi said.
(Reporter's note: why not get the best of both worlds? Gelato + donut = donut gelato.)
"I think what we're seeing -- and what I'm really excited about -- is these classic approaches to desserts being turned on their heads," Tosi said. "We are seeing cities and food cultures revisiting these staples with wonder and charisma, and as a result these old school classics are being brought back to the renaissance."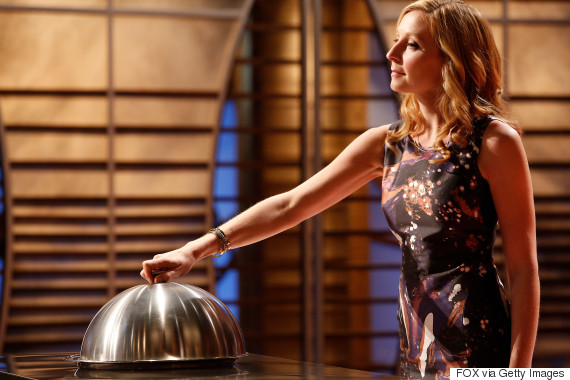 Tosi is a judge on the US series of MasterChef.
Tosi has been in the kitchen since she was a small child and harbours fond memories of helping her mum and aunties.
"I was raised by women who love to bake, -- my mum, my aunts, my grandmothers," Tosi said. "As such I was in the kitchen as a very early age as a bakers assistant."
"I developed such a love and passion and joy for baking. It was such a large part of who I am until I had gone through school and gone off to college, and then it was time to become a grown up and get a real job. Only then I realised I didn't want to grow up or have a real job, so I decided on a whim to move to New York and go to a culinary school and start a life in the food industry. It made perfect sense to me."
For those who haven't been born and raised in the pastry biz, but who want to give cooking at home a crack, Tosi recommends starting off with a cookie recipe.
"For me, a cookie is one of the most simple forms of baking, and the possibilities are endless," Tosi said. "Something like a cookie with ice cream is very, very simple to make and really delicious and beautiful."
"I would say the cookie is the perfect starting place, because you can bake them and then conserve them or give them to someone else as a gift. That's one of the reasons I fell in love with baking -- because of the sentiment and nurturing spirit."
Once you get confident with your cookie-cooking, you never know -- you might invent your own cronut/cruffin/latest dessert hybrid. The point is to get your creative juices going and give it a go.
"I think for me the spirit behind baking is innovation, and innovating in the space of taking that really well versed technique -- no matter what it is -- and seeing what you can bring to it that's new," Tosi said.
"Creativity and innovation -- it's the secret to what I do at Milk Bar. It's the secret to life in general. That's what has carried me so far. It has carried me to Sydney."
Want to get a taste of Tosi's cooking but won't be heading to NYC anytime soon? You can buy her cookbook here.