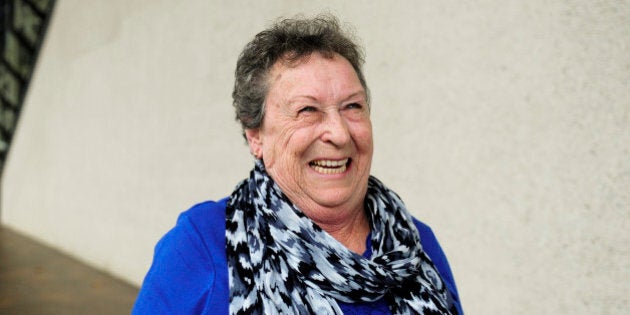 SYDNEY -- Two-time breast cancer and cervical cancer survivor Yvonne D'Arcy predicts breast cancer testing will become cheaper and more available after she won a High Court challenge to a patent covering the breast and ovarian cancer gene, BRCA1.
The High Court unanimously ruled that BRCA1, which is linked to an increased risk of a cancer, is a naturally occurring gene and not a patentable invention.
"I'm so happy and I'm ecstatic," D'Arcy said. "I screamed. I screamed. And I was just excited to know that we had it 7-0 our way."
It was a five year fight, including a lost Federal Court challenge, against the patent holder US-based biotech company Myriad Genetics.
"It was a David and Goliath test," D'Arcy told reporters in Brisbane. "I'm only a little person, but it's not the size of the dog in the fight, it's the size of the fight in the dog. I kept fighting."
There had been concern that the monopoly position of Myriad Genetics stymies research and restricts patient access to tests.
Myriad Genetics argued patents ensured potentially life-saving research is commercially viable.
QUT intellectual property expert Dr Matthew Rimmer has described the High Court ruling as a great victory for D'Arcy and an important international precedent.
"The High Court of Australia will be of significance to ongoing litigation over gene patents," he told HuffPost Australia.
"For instance, in Canada, the Children's Hospital of Eastern Ontario has launched a test case against gene patents."
But Dr Rimmer warns that the biotechnology industry may consider taking Australia to court in an investor-state dispute settlement challenge, similar to when tobacco giant Philip Morris brought action against Australia after losing in the High Court over plain packaging laws.
D'Arcy does not have the BRCA1 gene, but joined legal action with legal firm Maurice Blackburn to protect research.
"For all those people who do have the genetic footprint for breast cancer or any cancer basically, it's a win for them because now they're forewarned around forearmed," she said.
The High Court has now ordered that the Australian patent, which had been licensed for use in Australia by Genetic Technologies, be revoked.
D'Arcy expects the ruling will have long lasting repercussions in the field of breast cancer research.
"The testing will be a lot cheaper and it will be more available to them by more geneticists, rather than using only Myriad's agents at a price that nobody really can afford, except for Angelina Jolie," she said.
"People like us could never afford that amount of money, but now the costs will go down and there will be more geneticists will be able to test."
Dr Rimmer also expects patients and researchers will benefit.
"Public hospitals and clinics will be able to provide genetic counselling and genetic testing for breast and ovarian cancer - without fear of patent reprisals," he said.
"Genetics researchers will be able to conduct research on breast and ovarian cancer, free from legal worries."
Myriad Genetics has accepted the ruling, but says it will affect the commercial viability of research.
"We are disappointed with the decision by the High Court of Australia," a Myriad spokesman said in a statement.
"The High Court's decision comes at a critical time when we're entering the golden era of personalised medicine.
"In order for personalised medicine to become a reality, strong patent protection is essential because it provides the research-based companies like Myriad with an incentive to continue to invest in R&D."
D'Arcy has accused Myriad of greed.
"That's what the bottom line is, money. That's the bottom line."
She hopes other nations will follow Australia.
"I mean America's already got it and now us. And now I'm just hoping that other countries will see sense and follow us and the Americans, yes," she said.
Before today's ruling, the U.S. Supreme Court found that genes are discoveries rather than inventions.
The acting CEO of the National Breast Cancer Foundation, Jackie Coles, has welcomed the High Court ruling and congratulated D'Arcy.
"This is great news for Australia," she said in a statement.
"Lifting the restrictions on BRCA1 will allow researchers to translate fundamental knowledge about our genetic make-up into real advances in breast cancer detection and treatment.
"There are potentially a number of genes, yet to be identified, that are linked to breast cancer and that is why (we are) committed to funding research in this area."