Police have released video footage and photographs capturing the dramatic moments when four men were arrested in terror raids in Sydney's west early on Wednesday morning.
The men, aged 16-22, were arrested following the fatal shooting of a police civilian outside Parramatta Police Headquarters on Friday.
A fifth man, 24, was detained on unrelated fraud offences.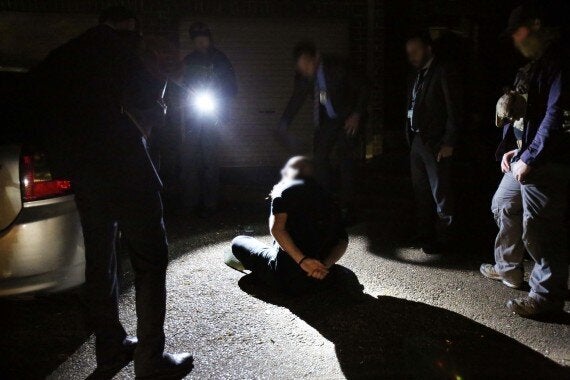 A man is detained in Mansfield. Picture: Police Media
NSW Deputy Police Commissioner Catherine Burn said four men, aged 16, 18 and two aged 22, were detained in connection to the death of police service accountant Curtis Cheng outside Police Headquarters at Parramatta on Friday, saying police "suspect a terrorism offence took place".
Burn said police were seeking to establish a connection between the four men arrested on Wednesday morning and the 'radicalised' gunman Farhad Khalil Mohammad Jabar, 15, who was killed after he shot Cheng on Friday.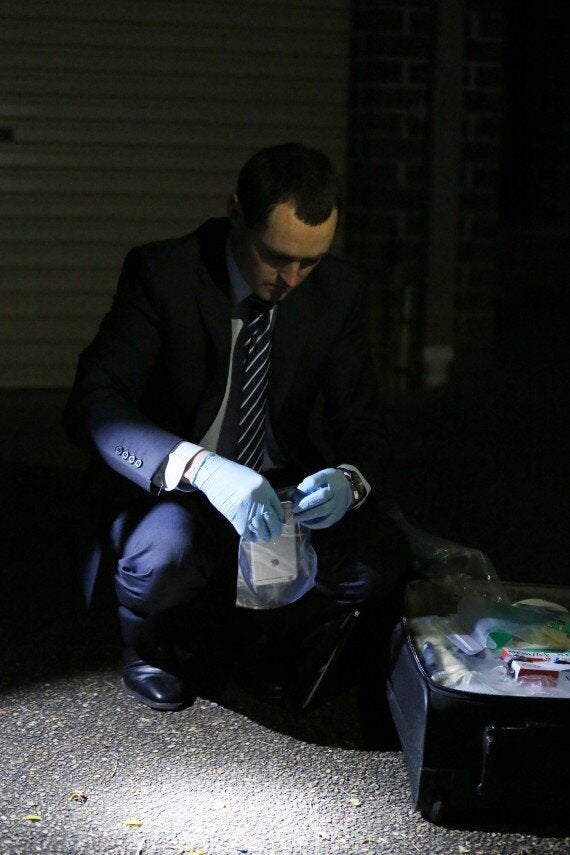 A phone is taken as evidence. Picture: Police Media
"Time will clearly tell what their association will have been heading up to the event on Friday," Burn said.
She said there was some indication some of the detained had been with the gunman at Parramatta Mosque prior to the shooting, but was cautious to say it could be a coincidence.
"We have some confirmation of some of the people we are interested in were attending the mosque," Burn said.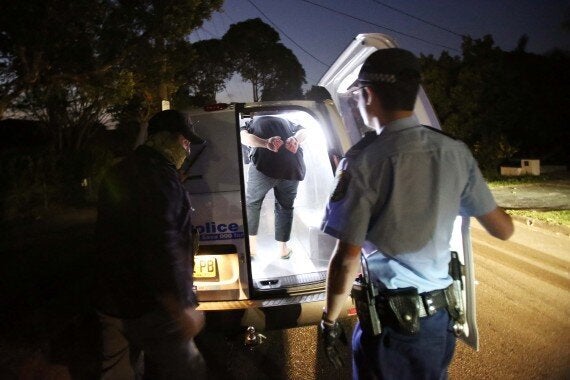 A handcuffed man is taken to a police car. Picture: Police Media
"We have to be very, very careful as we know with Muslims it's a normal religious practice to go to a mosque on Fridays."
Burn also said the gun used in Friday's shooting was being investigated.
"The supply of the firearm is clearly a major part of our investigation and that is a line of inquiry we will be undertaking with these people today."
Burn also recognised Australia's heightened security risk.
"It is a very sad fact in the heart of our community there is attack planning underway," Burn said.
"We are not able to be everywhere at all times."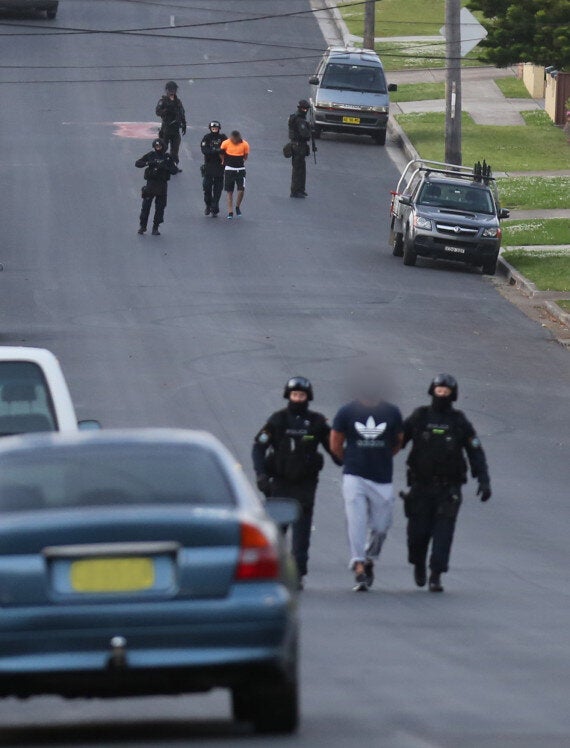 Two men are led away by police at Merrylands. Picture: Police Media
At 6am Wednesday, more than 200 officers executed warrants at premises located at Bursill Street, Guildford; Lane Street, Wentworthville; Lockwood Street, Merrylands; and, Booth Street, Marsfield.
Tensions ran high at the four locations including at Merrylands where a woman lashed out at media, smashing a microphone.
It follows the arrest of a 17-year-old on his way to school yesterday. He has since been charged with a string of offences, over allegedly using Facebook to threaten police and allegedly threatening a police officer.
The boy -- who cannot be named -- attended the same school as the gunman.
"She's going to give him a big lecture, scream at him, send him to his room," the boy's brother, acting as a translator for his mother, told Daily Mail Australia.
"He's a good boy but he's too much talk. He has a big mouth."
Minister for Justice Michael Keenan told ABC radio he wanted to thank police for their service in the aftermath of the Parramatta shooting.
"I want to commend them for all the work they're doing in keeping us safe," Keenan said.
"This has clearly been a very difficult time for NSW Police in particular."
Police are investigating the gunman's school and the mosque he visited prior to the shooting, however Keenan said online media was a major concern, describing "a diabolical terrorist outfit that continues to export terror into Australia".
Keenan returned last week from a meeting of more than 100 countries focused on Islamic State convened by U.S. President Barack Obama.
He said the challenge Australia faced was similar to the U.S., the UK and closer to home, Indonesia and Malaysia.
"There was an enormous amount of interest in what we are doing here … to provide reassurance," Keenan said on ABC News24.