Salim Mehajer, the controversial deputy mayor of Auburn, is having a tough time lately.
He just survived a censure motion from his own council, he scraped through re-election as deputy mayor in controversial circumstances and his new car was just slapped with a defect notice from police.
Mehajer captured the world's attention with a ridiculously lavish wedding ceremony in August -- including a $50 million phalanx of white Ferraris and Lamborghinis, a fleet of helicopters, a squad of motorcycles, a Kim and Kanye-style wall of flowers and unilateral street closures -- and recently announced his desire to become Prime Minister.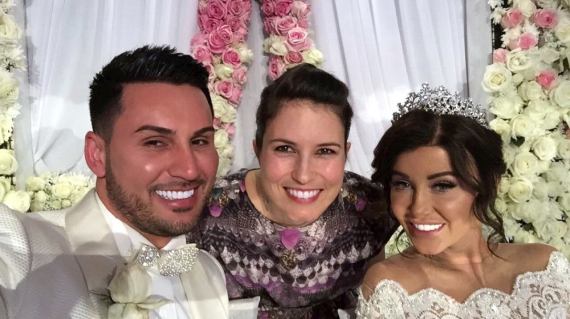 In a post on his public Facebook page today, Mehajer claimed police had pulled over his "brand new" Mercedes G63 AMG. Mehajer said police claimed his car had "a MAJOR defect and [was] not road worthy," that his registration was cancelled and he "was told to walk home."
He said police said "the exhaust is on the side causing emission to the drivers beside you. It should be [at] the rear."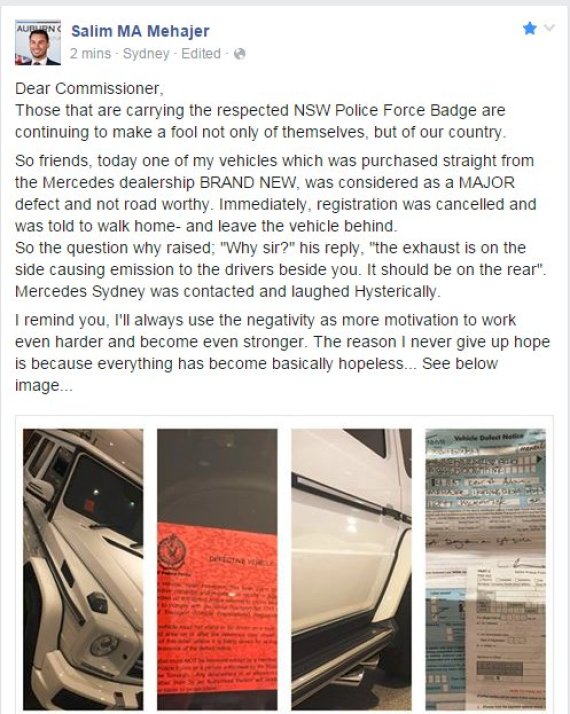 A G63 AMG would cost cost around $250,000 including delivery, stamp duty, registration and tax. Mercedes' website boasts of the "extravagant, signature AMG styling" which includes "the AMG exhaust system featuring chrome twin tailpipes at the sides" -- the features Mehajer said were the reason for the defect notice.
Since the wedding, Mehajer has rarely been out of the media spotlight with controversy dogging his every move. Soon after the wedding, the deputy mayor was the subject of an attempted censure by his own council, with two councillors trying (and failing) to pass motions criticising him for "bringing shame to Auburn" and to have the Minister for Local Government investigate the circumstances around the wedding. He was fined $220 for illegally blocking a street while filming his wedding, but for a man with net worth in the millions, it was described as "a tap on the finger" by another councillor.
He also survived re-election as deputy mayor in controversial circumstances last month, after one councillor abstained from voting leading to a drawn vote and Mehajer's name being drawn from a hat to win.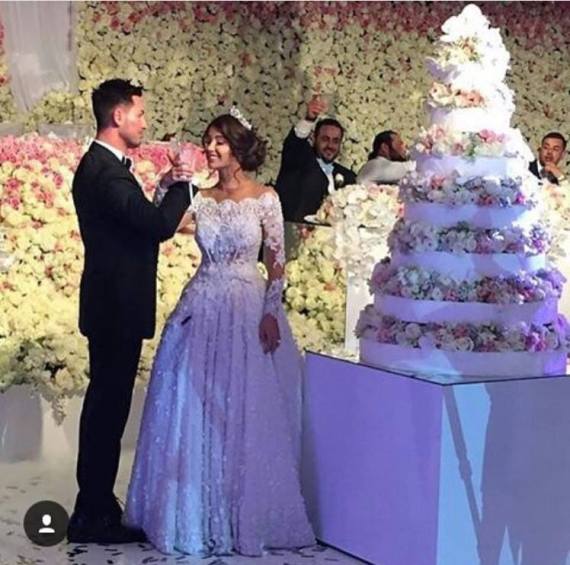 Just this week, he also announced that he wants to become Prime Minister.
"I would like to start off by being in state, federal and I'd like to make my way up to the very top spot," he told 9 News.
"That would be my dream come true."
Seemingly in response to 9 News' coverage of his "press conference" announcing his plans, he posted the following to his Facebook page: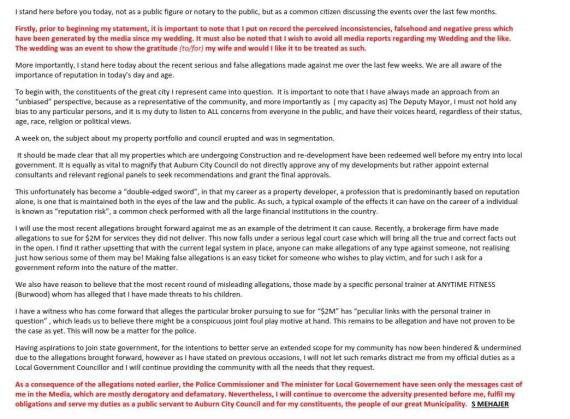 Mehajer's latest bizarre media appearance was yesterday, when his mansion was featured in the latest film clip from American rapper Bow Wow.