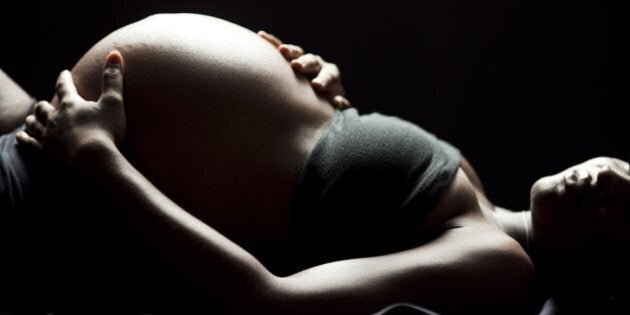 "I would lie awake in bed at night crying because I was pregnant and because I'd lost control of my life.
"It was like an alien had invaded me -- that's how I felt," said Catherine Knox, who at 32, had two unplanned babies in quick succession -- Tom, and 11 months later, Jack.
A type A personality -- setting goals, reaching them and quickly moving onto the next thing was standard practice for Knox, a high achieving marketing professional.
But a complicated first pregnancy resulting in a pre-eclampsia diagnosis followed by a traumatic labour meant that the image she had in her head of motherhood was vastly different to anything she'd imagined.
"I wanted to have the natural, beautiful birth and be the breastfeeding mother in my fantasy -- I had all of these expectations but the reality was completely different," Knox said.
Perinatal depression affects one in six Australian women. It is a condition that develops during pregnancy and up to one year after birth and is the leading cause of maternal death through suicide.
When Knox fell pregnant with her second baby, she went straight back to work. Unbeknown to her that she was suffering from post-traumatic stress disorder following the complicated labour of her first child.
"I was in such denial that I pretended I wasn't even pregnant. I was very distressed, but didn't want to tell anybody and I also didn't think anything was seriously wrong with me," Knox said.
"I was angry with my husband, I blamed him because he had made me pregnant. I couldn't see the fact that actually, I had played a part in this too -- so everything was his fault.
"It was as if my world was diminishing, because I was at home with this baby and yet he could still go to work. He still had his independence and his identity," said Knox.
For Knox and her husband, Vijay Roach, it wasn't until very soon after the birth of their second child that they realised the thoughts, grief and anger Knox was experiencing weren't normal. One of Roach's colleagues, an obstetrician, suggested perhaps what she was experiencing was postnatal depression.
Six weeks after her second child was born, Knox, who realised by this stage she was at crisis point, was admitted into a mother and baby psychiatric unit, where she spent four weeks.
"I went into that psych unit thinking I was never going to get better. I thought, this is how I'm going to feel for the rest of my life," she said.
Antidepressants were able to lift Knox's mood enough so she could see the world a little bit more clearly. She returned home after four weeks, and both her husband and Knox visited a psychologist for the next 18 months.
While able to articulate it now, Knox recalls that period of her life as being completely out of her control.
"It's very complicated because the love that you have for your children and how you feel are quite separate, but as a mother, you feel that everybody will judge you if you're miserable," she said.
Knox believes having a conversation with somebody you trust, who's not going to be judgmental and will listen and acknowledge how you are feeling is really important.
"It's not just about the mother, either -- our psychologist refused to see me alone. It was always my husband and I at the counselling sessions as this wasn't just my issue, it was a family issue."
Knox and her husband went on to have three more children after Tom and Jack. They are both passionate about raising awareness around perinatal depression and anxiety through their work with the Gidget Foundation.
If you need help in a crisis, call Lifeline on 13 11 14. For further information about depression contact beyondBlue on 1300224636 or perinatal depression contact Gidget Foundation on 02 9460 1550 or talk to your GP, local health professional or someone you trust.