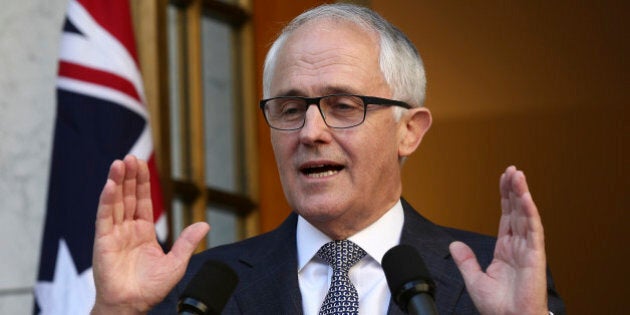 Prime Minister Malcolm Turnbull has praised Tony Abbott as a leader who stood by Liberal Party values and took the party "out of the wilderness" of opposition.
Addressing the NSW Liberal Party State Council in Sydney, Mr Turnbull paid tribute to Mr Abbott, whom he ousted as Prime Minister in last month's stunning leadership coup in Canberra.
Mr Turnbull defeated Mr Abbott 54-44 in the September 14 Liberal Party leadership ballot to become the nation's 29th Prime Minister after months of speculation about a potential leadership challenge.
"Tony Abbott has held firm to those Liberal values throughout his career and public life. He held true to them as an Opposition Leader, he held true to them as Prime Minister," Mr Turnbull said.
"He took us out of the wilderness of opposition and took us back into Government and achieved great things, great reforms, great commitments.
"He has helped build the future of our economy, he has helped ensure the prosperity of our children and grandchildren and our nation and our party and I say to you as his successor, all of us owe him an enormous debt."
Mr Turnbull also thanked former Treasurer Joe Hockey for his service to the party.
"While I do not believe he is here at the moment, I should also acknowledge, we should all acknowledge the formidable contribution as Treasurer and, over many years in many other capacities of the member for North Sydney, who has announced his forthcoming retirement from Parliament, Joe Hockey," Mr Turnbull said.
In a wide-ranging speech that also touched on terrorism and female representation in politics, Mr Turnbull said one of the great strengths of the Liberal Party was its freedom from factional interests, a comment greeted by laughter from some in the room.
"We are not run by factions, we are not run by - well, you may dispute that, but I have to tell you, from experience, we are not run by factions, nor are we run by big business, or by deals in back rooms," he said.
"We rely on the ideas and the energy and enterprise of our membership. Without those committed and passionate individuals from every walk of life our party could not long survive.
"The values of our party are the values of these times, because what we need today is initiative. We need agility, and that means freedom."