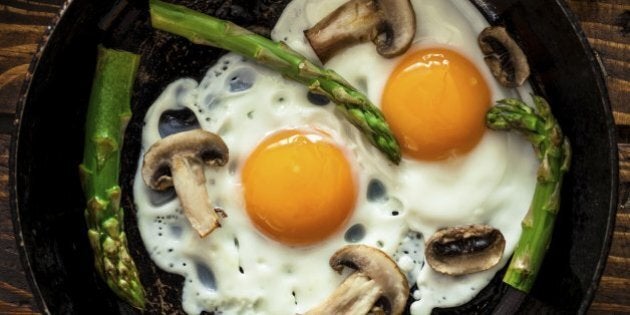 Want a healthy breakfast but you're sick of oats? Not a fan of the kale smoothie? Never fear -- you're in for an eggscellent surprise (sorry.)
Turns out eggs are not only a healthy (and filling) breakfast option -- they can also help you to lose weight.
"I primarily work with people for weight loss, and I have noticed for some time the superior qualities eggs have when it comes to weight control," dietitian Susie Burrell told The Huffington Post Australia. "The first is the way you eat eggs -- you tend to have them as part of an omelette, or with toast and vegetables. It's a more complete meal.
"Plus the fact they are rich in protein means you are fuller for longer, and you tend to eat less on the day you eat them. It's a follow-on effect."
Burrell credits that fuller-for-longer feeling to an amino acid called leucine, which, she states "appears to bind an insulin receptor that helps to keep us full."
While Aussies have long been known to enjoy a big egg brekky on the weekends, Burrell notes there is a perception that making eggs in the morning before work is too time consuming.
"I think people freak out because, let's be honest, people are under the pump, and it just seems to take longer than many other breakfast options," Burrell said. "But I would recommend, for those who are really time poor, to hard boil them the night before and have them with avocado in a breakfast wrap the next morning.
"Alternatively you can have them scrambled -- maybe with some feta and vegetables -- and reheat in the morning with a slice of toast and coffee.
"Once you get into that routine, you're getting really good levels of nutrition in the morning and setting yourself up for the day ahead."
But before you get too excited -- having eggs for breakfast does not equate to a fry-up at your local cafe.
"I think there are two risk patches when it comes to eggs -- the first being when they feature as part of a fry up," Burrell says. "Bacon, egg, sausages -- none of these are ideal. Try to stick with veges."
Omelettes are a good way to get your veges in.
"Secondly, be careful of turkish bread -- it's packed full of carbs. You have to be careful with your choice of toast. You'd want more of a sourdough or wholegrain. Some cafes will also offer creamed eggs -- be mindful of that as well. Occasionally they're not too bad -- but not for every day of the week."
Need some eggs-piration? Check out the healthy scrambled egg recipe below. Or, if you prefer them poached, check out how to make them perfectly here.
Susie Burrell's Breakie Scramble
2 eggs, lightly beaten
1 tomato, diced
1/2 cup spinach
25g of lean ham, diced
30g of grated reduced fat tasty cheese
Heat a non-stick pan on a medium setting. Spray oil over pan lightly. Add the beaten eggs to the pan and give it a swirl to coat the pan.
On one side of the pan add the tomatoes, spinach and mushrooms and cook for about 1-2 minutes.
Add the cheese and ham to the side of the egg with the ingredients.
Cook for another couple of minutes but while still soft, fold the egg side only on top of the ingredients side and serve.