Craig Kelly, Federal Member for Hughes, has sparked a debate around art in Parliament House after taking aim at a painting by an Archibald Prize winner.
Kelly posted a photo of Wendy Sharpe's artwork 'The Witches' on Facebook on Tuesday, commenting "most of the artwork around Parliament House is appalling" and asking followers "do you think this painting is suitable for Parliament House?"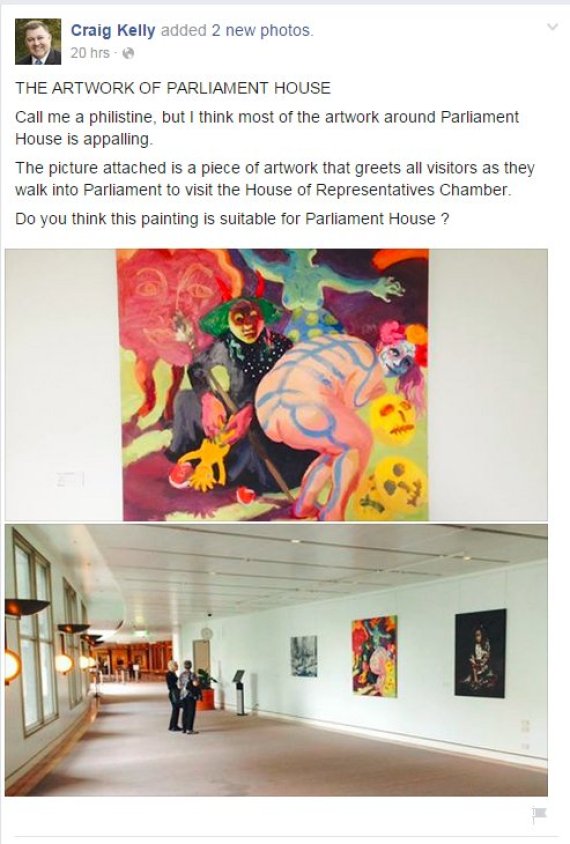 He later posted several more photos of the building's artwork, commenting "Am I missing something? Perhaps I didn't pay attention in Arts classes at school."
Sharpe -- whose career includes wins in the Archibald, Waverley and Sulman prizes -- created 'The Witches' as a tribute to Shakespeare play Macbeth, as part of a special exhibition celebrating Bell Shakespeare's 25th anniversary earlier this year.
According to Sharpe's website, the work has only been hanging in Parliament House for six days, as part of a visit by the Bell Shakespeare exhibition. Despite Kelly's comments, the artwork did come with a nudity warning.
The controversial Wendy Sharpe painting in Parliament House did come with a nudity warning: pic.twitter.com/Q8PGCx7IcV

— Karen Barlow (@KJBar) October 14, 2015
The Huffington Post Australia has contacted Sharpe for comment.
But it got us thinking -- what other artworks hang on the walls of our halls of parliament? And, as Kelly suggests, are "most" of them "appalling"? Make up your own mind with our poll below...
For more info on the Parliament House art collection, check out their website.