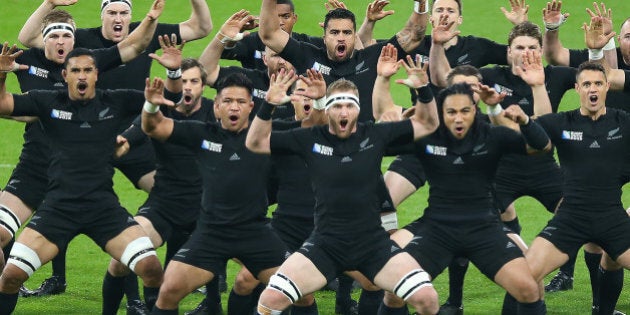 It's designed to strike fear into opponents and is one of the most recognisable sights in the world of sport.
The Haka is on display once again at the 2015 Rugby World Cup.
Originally performed by New Zealand's indigenous Maori peoples as a battle dance, the Haka has become a symbol to unite the All Blacks team -- many of whom come from different ethnic backgrounds.
American network CNN has put together a video explainer to try and help the rest of the world understand the Haka's rich history and cultural significance.
"For me, personally, it was more about us," former All Blacks captain Sean Fitzpatrick told CNN.
"In terms of New Zealand, our indigenous people, the people that had gone before us that had worn this most amazing jersey, and coming together as one to hopefully defeat the opposition.
"As we say, it was a great way to start work."
A similar war dance is also performed by other Pacific Islands rugby teams, such as Samoa and Fiji.
Former All Blacks great Jonah Lomu said there should be no holding back when you do the haka.
"It's a challenge. It's done before you go to battle," Lomu said.
"It's also paying respect to the warriors who used to do it before they went to battle. I make sure I don't disrespect it and make sure you give it your all when you do it."
Despite its fearsome reputation, the Haka has had its ups and downs on the sports field -- including with this effort ahead of the All Blacks' clash with the Barbarians at Cardiff Arms Park in 1973.