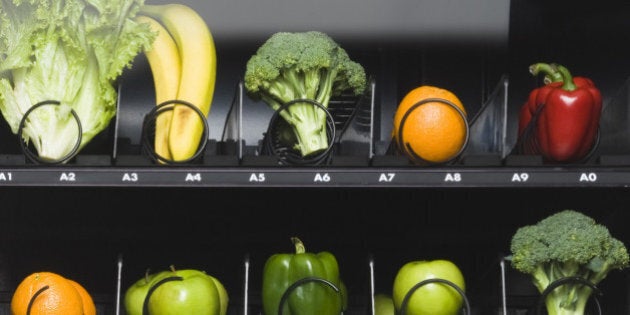 Ever been stuck in transit -- starving -- only to find the only source of food available comes from a vending machine?
Well, unless you're in Japan where they offer sushi (YES, SUSHI) or Europe, where they offer pizza out of vending machines, chances are you're going to have to concede to the giant Wagon Wheel staring at you from behind the glass.
Frustrating, doesn't quite cut it -- especially when you're trying to be healthy.
Luckily though, thanks to a handful of new Australian businesses, healthy, semi-prepared meals dispensed through, you guessed it, vending machines are on the rise.
Melbourne based Füd Revolution and Brisbane's All Real Food are leading the way in offering healthy alternatives on the go, tapping into a market of health conscious and time-poor consumers.
"Australians are now more focused than ever on sugar consumption, trans-fats, childhood obesity and BMI indexes, and as such their shopping behaviour has changed," QUT consumer behaviour expert Gary Mortime told The Huffington Post Australia.
According to Mortime, these businesses are thinking outside of what the traditional vending machine represents.
"The thinking is, if these vending machines can offer refrigerated soft drinks, why can't they offer salads and sushi," he said.
Co-founder, Daniella Stalling of Brisbane's All Real Food, said they've had a great response since launching their first two vending machines in Brisbane two weeks ago.
"We offer a meat lovers salad, as well as a vegetarian and vegan salad plus breakfast and sweets -- which are raw desserts of caramel slice and choc mint slice -- all free from refined sugar," she said.
"The machines are restocked everyday and anything that's not sold is donated to the charity, Aus Harvest."
Stalling said they've had a large amount of inquiries both Australia wide as well as Singapore, Hong Kong and the UK.
"Young innovative retailers wanting to provide the market with a fresh and convenient alternative without the added costs of leasing a store, rates and utilities are using the vending machine channel," said Mortime.
But it's also offering possibilities to businesses that don't have a constant flow of customers.
Mortime said one of the challenges retailers face on university campuses is whether to close during holiday periods and weekends despite research students and academics still being in attendance.
"These businesses still want to provide their product to the market without incurring massive staffing costs and these kiosks and vending machines offer a solution," Mortime said.
"Certainly in the next two years we'll start to see these types of vending machines really entering the market in certain areas, particularly at the bottom of office towers, inside gyms and in high density living areas," said Mortime.